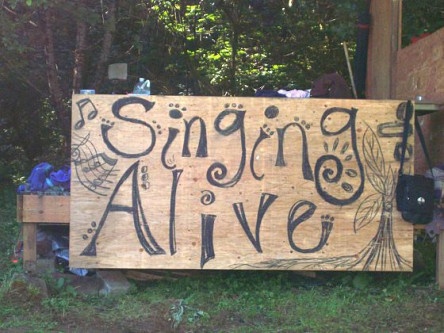 SA Cascadia 2017 ~~ 
Arrive no earlier than 12 noon on Thursday, as we begin Friday morning. If you want to come yet earlier and assist with set-up, that can happen with advanced notice . . .  There is an informal dinner, and fire-side song circle(s) that Thursday evening.  

Every day we will gather in a OPENING CIRCLE  (9:30 am), to begin the day with a few songs, exercises, and introduction to whats to come for the day. Whats to come are smaller circles in the morning (10:15–12:15), afternoon (2:30–4:30), and a late afternoon circle (5:00 – 6:30).   There will be Yoga classes offered in the 'Om dome' every morning before Opening circle, and possibly later in the day.

Evening activites are mostly fire circles that take on a life of their own.  Saturday night there is a letting go ceremony.  Lunch is at 12:30 and dinner is served at 7:00.

High volume voices and instrumentation dial way down after  1 am.  There will be a couple hours of (semi-) silence between 6–8 am.  Angel Walk / Wash will be happening Sunday afternoon.  We will officially end before the lunch circle on Monday, though song circles will happen thru the day (informally) and that night as well.  A marketplace / barter fair happens Monday afternoon, so feel free to bring things to sell or trade.  All attendees may spend the night Tuesday, but must be gone from the event site, or transitioned to the grassy parking meadow, by 10 am.  Those who wish to stay for disassembling of the event that Tuesday (in which case you get breakfast, lunch, and appreciation), may do so if agreed  upon by the Team leaders under which they will work. . .