In devotion to song, ceremony,

&

heart-felt communion w/ the healing plant Kin-dom 




July 27 ~ 29, 2018




near Salem Oregon
 
  

~ An Herbal Gathering ~ 
What is Plants EnChant?  
This gathering of plants, people, and songs, can be summed as:   Singing Alive + herbal gathering = Plants EnChant!  It is intended to develop and strengthen 'medicine culture' thru the healing arts of holistic education, song-sharing, life-as-ceremony, and supportive community.  

Plants enChant recognizes 'medicines' as the force of nature that cures dis-ease, that takes us from being sick to being free.  This event aligns more with 'deep herbalism', which cultivates a relationship thru plants to the healing presence of Nature, a pro-active approach to health, and less with the 'shallow herbalism' of 'take the tincture and make the symptoms go away', a greener version of the pharmaceutical model.  

Plants enChant recognizes plants as the greenprint of all medicines.  It acknowledges plants as elders in the society of nature as it exists on planet earth, and therefore teachers to the adolescent human species. In their yet more primal aspect, plants are 'umbilical cords to Gaia' (Rosemary Gladstar);  they 'help us remember' (Stephen Buhner).  As such, they can keep us aligned with the healthy functioning of the planetary metabolism, mirrored in our own inner and social ecologies.  All plants (and fungi), are teachers, if related to as such.  Plants enChant is intended to honor and give space for their wisdom, to activate our abilities to receive it, and put this guidance into practice through the cultural forms and ways they affirm.  We invite all who feel called to the Way of the plants.

This Way has many names:   indigenous consciousness, path of the heart, way of the Bird Tribes, culture of peace, the inbody experience, earth-based spirituality, eco-centric worldview, dawn of the bridge people, the Ones we've been waiting for . . .   All recognize a planetary dharma of self-responsible living, of conscious co-evolution, all are guided by the feedback compass of heightened states of well-being.  Such paths have been variously lost, suppressed, distorted, and forgotten as humanity has undergone its transformations in the chrysalis of egoic conditioning.   As increasing numbers of us emerge from this collective initiation, we spread the wings of our species maturity, drawn to the heights of our destiny in the planetary design.   To perform the Gaian dream, our dream, we recognize that it is time for a new sun to dawn, for the human heart to light a new path for creation.   Plants, as seekers of the light, help us clear the clouds from our heart, from our minds, awakening us to the spontaneous life of our inherent divinity.

Plants EnChant is intended to help us shed the vestiges of fear-based life ways that impair our communications with plants, and associated beings both seen and unseen.   To attune to plants is attune to more expansive dimensions of ourselves, to our soul.  This gives our innate altruism space to exercise itself;  it activates our inherent abilities to 'read' the natural world, to hear it songs, to smell its personalities, to feel its affinities, to taste its stories, and respond in kind.  Restored to our senses, we find beauty in the walk of life, discover ourselves in service to the well-being of All, to Life.   In such ways we arise from the dream of separation, and rediscover a world magically alive, intelligent, and communicative.   In such ways we sing alive a world of enchantment!
Growing the Edge of Herbalism 
To this beginning, such offerings can include: 
Eco-conscious models of self-cultivation (gardening the spirit) and identity in reference to industrial growth society that are pro-active, generative, and organic, rather than reactive, passive, and mechanistic.   
Experiential offerings.  These include:  1)  ways to awaken and develop the subtleties of the senses, and the balanced ratio of their use, such as meditations that tune-in to the deeper characters ('feeling tones') of plants, that evoke 'plant whisperings'.  2)  opportunities to ingest or embody particular plants in circumstances of ceremony, with facilitators who are experienced with their use.
Investigating the wider implications of the doctrine of signatures, aka the language of nature.   'If one could but read nature, all the scriptures are there' – Amma 
Tell-a-Vision ~ in which we share plant (and fungi) visions, and experiences of radical symbiosis, in a group setting.
Plant inspired songs, ranging from songs to invoke the spirit of particular plants, to those relating to the larger cosmos of ecosystem relations, in both honoring and teaching aspects.
And . . .  Ethical wildcrafting, medicine making, gardening perspectives, astrological considerations, plant biographies, herbal first aid practicalities, daily plant walks, and  . . MORE, including a marketplace on sunday afternoon, and song circles @ night.  

If you would like to offer a workshop,
make a proposal here…


~•~ ~•~ ~•~ ~•~ ~•~ ~•~ ~•~ ~•~ ~•~ ~•~ ~•~ ~•~ ~•~ ~•~ ~•~ ~•~ ~•~ ~•~ ~•~ ~•~ ~•~ ~•~ ~•~ ~•~ ~•~ ~•~ ~•~ ~•~ ~•~ ~•~ ~•~ ~•~ ~•~ ~•~ ~•~ ~•~ ~•~
 2018 is the fourth year for this gathering.   It is seeded from the NW Herbal Faire, The Fairy Congress, and Singing Alive events.   Come be part of the new growth!  

 'If you can walk you can dance, if you can talk you can SING' ~ African Proverb
---
Plants enC

han

t 2018 Tickets
Teens with accompanying adults – 1/2 price
(include adult's name when purchasing teen ticket)

Children 12 and under are free  

(include number of accompanying children and ages when purchasing adult ticket)
---
Adult Weekend Pass
---
tickets include nearly everything:  all meals, workshops / activities, and camping

~•~ ~•~ ~•~ ~•~ ~•~ ~•~ ~•~ ~•~ ~•~ ~•~ ~•~ ~•~ ~•~ ~•~ ~•~ ~•~ ~•~ ~•~ ~•~ ~•~ ~•~ ~•~ ~•~ ~•~ ~•~ ~•~ ~•~ ~•~ ~•~ ~•~ ~•~ ~•~ ~•~ ~•~ ~•~ ~•~ ~•~
Plants EnChant Daily Schedule, 2018
Arrive no earlier than 12 noon on Thursday, as we begin Friday morning. 
If you want to come yet earlier and assist with set-up, that can happen with advanced notice. .  

Every day we will gather in a OPENING CIRCLE (around 9:30), to begin the day with a few songs, exercises, and introduction to whats to come for the day.  

Whats to come are offerings (aka 'class', 'workshop', etc. .) in the morning (10:15 – 12:15), and 2 in the afternoon (2:30 – 4:30;  5:00 – 6:30).

At 7:00 we gather in a DINNER CIRCLE to close the day and introduce dinner and evening events, which are mostly about fire circles that take on a life of their own.   Such life includes mostly song sharing, held in the Singing Alive tradition of equitable and inclusive song sharing, however there can be space for related expressive arts.  

Lunch is at 12:30 and dinner at 7:00. 

There will be a couple hours of (semi-) silence between 6 – 8 am. 

 Voices and musical instruments get tuned down around 12 – 1  am. 

There will be a MARKETPLACE (stalkmarket!) happening Sunday afternoon, 1 – 5 pm, so feel free to bring things to sell or trade.  These include, but are not limited to, herbs of all kinds – wildcrafted, garden grown, dried, live, or made into whatever ~ so it's a time to both share and stock up!  This market is free and open to the public. 

We will officially end Sunday, after the Sunday markets, though people are welcome to stay for dinner.. All attendees must depart soon after dinner unless otherwise arranged. .  

PEC 2018 ~ tentative presenters so far:   
Jan Kinsey (Shamanic Journeying);  Nome McBride (A Visionary Approach to Creating Herbal Formulas), Camilla Blossom (Awakening with Nature Elementals), Rosie Kenny (Mugwort and Dreaming), Luckey Bunny Ananda and Tasya Herskov (Sacred Seed Planting Ceremony);  Christina Gomes (Space & Shamanic Journey: A Cacao Ceremony for unleashing the power of your voice);   Rebecca Minifie (The Rose as a Plant ally);  Scott Kloos;   

~•~ ~•~ ~•~ ~•~ ~•~ ~•~ ~•~ ~•~ ~•~ ~•~ ~•~ ~•~ ~•~ ~•~ ~•~ ~•~ ~•~ ~•~ ~•~ ~•~ ~•~ ~•~ ~•~ ~•~ ~•~ ~•~ ~•~ ~•~ ~•~ ~•~ ~•~ ~•~ ~•~ ~•~ ~•~ ~•~ ~•~

PEC 2017 schedule. . .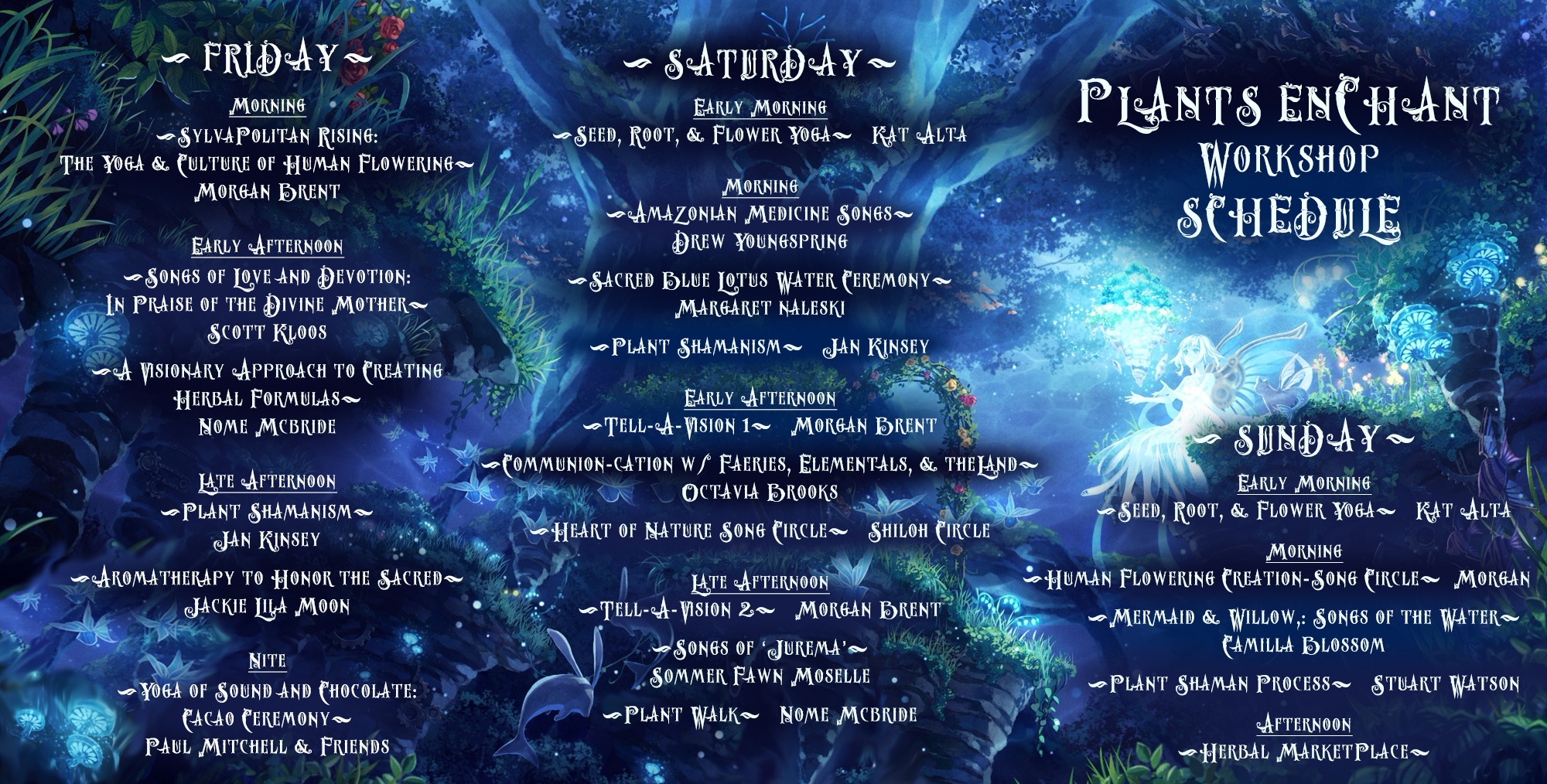 Plants EnChant 2017 Presenters . . .
 Scott Kloos ~  is a plant medicine practitioner, wildcrafter, and medicine maker. He has been working with the native plants of the Pacific Northwest since the late 90's. He is the founder and managing director of The School of Forest Medicine and is the owner of Cascadia Folk Medicine, which supplies the community with high-quality, small-batch herbal extracts of the native plants of the region. He was one of the founding members of the Elderberry School of Botanical Medicine in Portland, OR. In his healing practice he works mainly with the psycho-spiritual aspects of plant medicine.
Songs of Love and Devotion: In Praise of the Divine Mother. Let's gather together to express our gratitude to the Great Mother via her various plant-life manifestations: Aspen, Dogwood, Peony, and more…

Sommer Fawn Moselle ~ Sommer is a teacher, ceremonialist, music producer, performer, and sacred medicine song holder who currently resides in the magical land of waterfalls known as Cascadia.  She began her initiation into the "curimba" or healing songs of Brazil in 2001 on the Big Island of Hawaii.  She has lived in the Amazon Rainforest, where she volunteered with Grandmother Maria Alice and other elders at the Centro da Medicina da Floresta.  She has been receiving and compiling her own healing songs since 2002 and has presented her work under the guise of "Orixananda: Bhakti do Brazil" at many gatherings and festivals including Beloved and Singing Alive. She has published a volume of her medicine songs entitled "O Caminho do Som Dourado" (The Way of the Golden Sound).  Sommer is honored to share a selection of these songs, as well as some traditional songs from her root lineages of Santo Daime, Umbanda, and Umbandaime in her workshop at Plants EnChant, where we will be exploring the plant medicine and the spiritual being/archetype known as Jurema.   https://www.facebook.com/SpeakofStars;  http://estrelacadente9.wix.com/som-dourado

Morgan Brent ~  is an educator, event organizer, and ceremonialist.  He received a PhD in anthropology at the Univ. of Hawaii, specializing in the spiritual ecology of medicinal plants.  He has worked extensively with plant-inspired wisdoms, and allies himself with Nature's efforts to 'save the humans' thru catalyzing our cultural evolution.   He is the founder of Singing Alive events, as well as Plants enChant.
Sylvapolitan Rising ~ Plant-inspired teachings that acculture us to 'Survival of the Most Loving'
Tell-A-Vision ~ in which we share plant (and fungi) visions, and experiences of radical symbiosis, in a group setting.

Jackie Lila Moon  ~   A teacher of yoga, meditation, breathwork, holistic health and nutrition and a community organizer passionate about growing the collective conscious tribe.  Jackie shares her understanding of plant allies and their role in many areas of our lives as a plant medicine advocate and educator. Jackie has found the use of essential oils for healing and harmony and through the gift of holistic education, Jackie strives to create an accessible gateway for stronger connection among humans with their plant family.  Jackie has studied and shared this plant passion in the Northwest and continues to grow and develop this love bond with the gifts of Gaia. 
Aromatherapy to Honor the Sacred ~ The essential oils that plants carry contain ancient genetic intelligence that is immunological in nature. Plants are a part of the collective divinity and to honor them, we find it far more accessible to harness their powerful effects for use to protect, defend and help with our own physical, emotional, spiritual, mental misalignment. Just as the plant uses its essential oil for balance, we to can utilize specific plant parts for their energetic, emotional and medicinal benefits ~ all which allow us to clear away distractions and drop deeper into a sacred state both in ceremony and daily life. All life is sacred and the plants help us to remember that. We work with intention setting with the plants to commune with their essence and and powerful properties even deeper. 

This offering will provide insight on how to clear the energy channels of the body using plant medicine as a vehicle to facilitate holistic healing and purification for the divine body-mind-spirit temple

.

Nome McBride ~ Nome teaches extensively in the Northwest at herbal fairs, conferences, and as a guest teacher in many reputable herbal schools and naturopathic universities.  He has been trained in the use of European herbs by The Academy of Scottish Herbalism , and trained in field botany and native plants of the Northwest by The Columbine's School of Botanical Studies. Nome has also had personal training in pharmocognosy, phytochemistry, clinical and physical assessment skills, herbal formulating, and anatomy and physiology.  Nome was formerly a Co-Founder of Under the Yew Botanicals, est. 2004, and now focuses on cultivating his business, Pharmacopeias Herbals
Plant Walk
A Visionary Approach to Creating Herbal Formulas
Shiloh Circle ~ has been sharing and carrying medicine songs and heart songs since the year 2000. Drawing her sources from across the country from Pagan and Native ceremony to Radical Faerie and Rainbow gatherings, Shiloh writes and teaches her own original music as well. Singing Alive has been a major influence on how Shiloh conducts her song circles. Life experience has been her school, singing from the heart and leading others into their own open hearted singing is her speciality. Nature is her temple, love and humor are her spiritual practices.

 Heart of Nature Song Circle: songs in praise of natures wonder and majesty, songs to remember that we are woven intricately and inextricably into the web of life. The wisdom from root to fruit lives inside our bodies, the miraculous seed of creation planted inside our hearts. 
Drew YoungSpring ~ Song Medicine Carrier. Drew is a student of the earth. He has been traveling the Americas learning the wisdoms of the forests, mountains, deserts, rivers, and seas. On his travels he studies and collects songs that vibrate the heart and lift the spirit. He is both a song carrier and a song writer, putting equal importance on both the carrying of powerful songs and the creation of his own. He works often with songs that carry the frequency of traditional plant medicines of the Americas. Www.soundcloud.com/drew-youngspring

Amazonian Medicine Songs ~ This Amazonian Medicine Song Circle will incorporate both traditional Amazonian plant medicine songs as well as songs that came through me that vibrate in the frequency of Amazonian plant teachers. I will be teaching the songs that I have learned on my journey and in my work.


Hanuman Project ~
  is deeply connected to the Mayan Cacao Heartland of Guatemala.  Following years of study, practices and devotion in Lake Atitlan, Guatemala, the Hanuman Project is carrying this powerful heart opening plant medicine.  
The Hanuman Project is a Kirtan music adventure;  supported by a cast of heart opening musicians, magicians and singers. Known for their highly accessible and deeply powerful Kirtan offerings, the Hanuman Project will sweep you up into a whirlwind of chant ecstasy and then plunge in a lake of devotional nectar. The Hanuman Project is the fruit of travel and adventures in temples, festivals and retreats spread throughout the globe. The Hanuman Project Kirtan experience is designed to weave worlds together, with melodies, beats and mantras that bring us home to the heart. Hanuman Project;  Hanuman Project Kirtan;  Hanuman Project SoundCloud;  Hanuman Project Instagram

Cacao Ceremony – Yoga of Sound and Chocolate ~ Perhaps the most potent Cacao for ceremonial use and heart activation on the planet, Paul works with this plant allie to create an alchemical sound and song ceremony. This practice supports participants in:  Setting Intention;  Energy and blockage clearing;  Chakra Activation;  Manifesting a higher reality.  This is achieved through a spellbinding blend of ancient and contemporary sound and voice practices and a shamanic chant journey guiding partcipants through a process of heart alchemy.  www.soundandchocolate.com


Kat Alta ~ is a nature guide, mystical yoga teacher, song carrier and magical weaver. Her exploration of the forests, rivers, mountains and seas has deeply influenced her connection and communion with Mother Earth and the Great Mystery. She believes the healing and union of the body, mind and spirit is through our intimate relationship with Earth and source. Kat Alta has worked with all ages sharing this love and passion.  Her yoga offerings infuse movement, sound, breath and visionary work that are open to all levels of practitioners.
Seed, Root and Flower ~ Journey through the seeds, roots and flowers in breath, vision, movement and song. This yoga experience taps into our deep intuitive ability to connect with the Earth and awaken the enchanted plant of the heart and soul.   The yoga workshop will also  incorporate a ceremonial sharing of the medicinal heart-opener plant ally Hawthorne. 
Jan Kinsey ~ I have studying shamanism for about 20 years and has been a closet herbalist for about 10. Last year I finally put myself in a disciplined 3 year shamanic program.  I am also trained in various hands on healing modalities.
Plant Shamanism ~ We will do a middle world shamanic journey to a plant that is calling out to you. You will inquire into how you can best work with this it (botanical extract, flower essence, shamanically, other) and how you can best build a relationship with this plant. How do you honor this plant? Is there a song that it wants to teach you? When do you sing this song
Octavia Brooks ~  is a Shamanic Energy Healer, spirit medium, Pagan priestess and goddess at large.  Her non-denominational style is irreverent, playful, encouraging and loving.  Octavia collected her Shamanic toolkit from human, spirit, and plant spiritual teachers in the Pagan, New Age, Hindu, Christian, and tribal traditions.  Octavia's passion is to unlock and reclaim your gifts, so that you can inspire and encourage others.

More communion-cation with Nature – Open your relations with fairies, elementals and the Land ~ This playshop introduces humans to the special beings who tend and steward Nature.  Learn to be receptive to the subtle forms of friendship and communication the fairy races offer.  Bring your gifts of playful songs, high-vibe food treats, and fairyhouse-building skills to have an afternoon of Natural delight and pleasure.

Fairy orientation rap – Types of nature spirits and how to relate with them – what they need from us to feel comfortable

Journey – To the fairyworld dimension and request audience with the local Fairy royalty 

Walkabout – Wander and meet local fairies and nature beings on the land

Thanksgiving – Invite your new friends back to a fairy-human cultural exchange.  Make offerings and eat special foods with your new friends. Receive meaningful messages to learn about fairy culture and lifestyle.

Human Sharing circle – What did you learn? Share your new friends' teachings with the group.

Optional Fairy healing circle – together we offer our healing love talents to the local land spirits (may happen more than once in the weekend)

Margaret Naleski Holistic Mystic ~ revels in the mysteries of life, walks her unique beauty way, seeking to create unions between various worlds.  Ever evolving always creating, she has attended New England Academy of Herbal arts & Sciences – advanced Clinical Herbalism program, Studying with  mentors such as: Matthew Wood, Marlene Adelmann, Katheryn Langelier etc, The School of Evolutionary Herbalism- Studying with Herbalist Sajah Popham, Astro~Herbalism, Holistic Herbalism Blueprint
Sacred Blue Lotus Water Blessing Ceremony ~ Egyptian Blue Lotus (Nymphaea Caerulea) is a sacred plant ally born of the water. Originating along the Nile this sacred ally has a mysterious historical past and is often speculated to be a potential Soma (initiatic sacrament). The spirit of blue lotus is gentle and motherly, she is a wonderful leader of meditation as she takes one by the hand and floats them gently down the river of themselves. On the physical level Blue lotus can have sedative properties, hypnotic properties, aphrodisiac qualities and mildly psychoactive effects.

In this ceremony we will connect with the lotus via tea and Spagyric Elixir while sitting with her dried and fresh plant material, & 3 bowls of water ~ mountain spring, river, & ocean. From here we will explore:

◦ Ethnobotany of the Lotus and her roots in the ancient Egyptian culture. As well as information being shared about her habitat, effects and growth patterns.

◦ Water Blessing Songs & Blue Lotus Prayer Chants

◦ Inner Water Mediation –  we will be exploring the water within and around us and invoke the spirit of the lotus to assist us in this process of transmutation.. 

This ceremony is a collaboration between the humans and the plants, as they are coming together with intention to transmute and awaken. Through this we are working deeply with the gaian mind, seeing all beings/ manifestations of consciousness with honor and respect.
Camilla Blossom Bishop is a soul midwife, water-keeper, land-keeper, mentor, speaker, and pioneering flower essence alchemist. She delights in co-creating and communing with the spirits of nature and cultivates and catalyzes the opening of intuitive relationships with nature elementals, fairies, spirits and devas of plants, gnomes and lands, and mermaids of water where she lives and in her travels. She works closely with the Elementals, her Lemurian Grandmothers, flower devas, lilies, willow, White Buffalo Calf Woman, and Mayan Goddess Ix Chel. Her work activates soul remembering of lineage gifts and awakens the inner shaman. Camilla has written Sacred Spirit of The Gorge: Columbia River Gorge Flower Essences & Essences of Place in 2008 (newly revised in 2017) and Secrets of Ambrella A Magic Mer-Tail. She lives and works at a sacred 5th dimensional nature sanctuary called Prairie Star Meadows in Mosier, Oregon and loves to spend time in The Unicorn Garden. CamillaBlossom.com
Mermaid Water Blessing & Healing Blessing the water attunes us to our feminine creative power (womb-women, hara-men) and honors the spirit of the waters—the mermaids, water devas, source-waters, Grandmothers, and Goddesses. We will sing to call in mermaids and mermen, learn how to create songs to connect with water devas, and receive spiritual healing from Willow flower essence and an ancient indigenous Grandmother Willow medicine song.

Stuart W. ~ believes the magic and meaning is in the relationship. He is a Mediation Trainer and coordinates the Neighborhood Mediation program for Portland, he guides families through difficult transitions as a Family Mediator and he is the Author of The Relationship Repair Game, a toolkit for transforming inter-personal conflict which was inspired by sacred plant medicines.
Plant Shaman Process  We will explore some different ways to connect with plant spirits for healing and guidance. We will then practice a simple process for merging, communicating and learning from a plant through an individual experiential journey.  We will then re-gather to harvest the wisdom and share our insights with each other. 
~~~~~~~~~~~~~~~~~~~~~~~~~~~~~~~~~~~~~~~~~~~~~~~~~~~~~~~~~~~~~~~~~~~~~~~~~~~
What to Bring . . . 
The first thing to bring is your willingness to offer cooperative energies to keep things flowing well. To keep the gathering affordable to all who wish to attend, we ask everybody to volunteer to assist, to the extent you are able, 2 – 4 hrs in the smooth running of the event. Tasks include registration, food receiving, preparation, circle recording, children's activities, washing pots and pans, potty perusal, cleaning up, running errands, etc.  There will be a volunteer coordinator(s) to assist with this. This is a living-on-the-land thing, so come prepared with tent, bedding, flashlights, water bottle, warm clothes, etc.  If you have an RV, or a car camping situation, that can happen in the parking areas, which are grassy fields bordering forest.   Electricity is also happening here.  Potable water is as well, though always good to bring your own.  If you have a recording device, bring for yourself, or we could possibly use it as an additional resource for recording circles.  If you have things to sell or trade, bring them for the afternoon marketplace on Sunday.
Food . .  
Though all meals are included as part of the ticket price, we intend that the larger community contributes to them in various ways, either thru volunteering in the kitchen, or bringing various food items.  Bring what fruits and vegetables you can to feed the Family!  Everything will be vegetarian, soy-free, and as organic as possible. Granolas, chips, nuts, and such are also good to bring. Bring your own plates, cups, and silverware and keep them for the duration. We'll have a dishwashing station set up. There will be a tea kitchen, and donations of herbs and herbal blends, teas, chais, coffees, etc. are  appreciated.
and  . .
DOGS ~  No pets.  ADA Service Animals must be registered PRIOR TO EVENT.
SMOKING ~ We endeavor to have the public spaces (commons) be smoke free. We ask you smoke in the smoking temples only, not the parking lot, community commons, or the camping spaces. 
SHOWERS and BATHING ~ not much @ this site!  Though there is a small creek, the place to go is a large spring fed pond @ the upper end of the site.  If the potable water supply is flowing well, and we'll set up some kind of showering situation.
CELL PHONES ~ Some. .  cell phones work in the canyon.  Reception is good on the road leading into the site