A Happening in Washington ~~  

Do you want more connection in your life? Do you long to belong? Have you dreamed of living in community?
So have we! 
That's why we are hosting 
ReRadical Village Camp
, a gathering hosted by intentional community for folks that want to live in intentional communities. 
This gathering is taking place in southern Washington June 22 – 25th. 
Register soon, tickets are $50 more after June 1st! 
Cheers,
Sara Eden Gally 
ReRadical Village Camp Founder


Some song circle happenings in Oregon . . . 
Portland, OR ~  
Sing with Laurence Cole, Friday, May 5th, 7:30 – 10:00 pm
Yoga Shala, 3808 N. Williams
Come sing! Easily-learned, musically-rich songs of earth, heart, spirit, laughter, reverence. $12 – $20 sliding scale, no one turned away for lack of funds. (Show us an EBT card and get in for $5.)

https://www.facebook.com/events/1763210310608664/
Olympia, WA ~  

Human Flowering Creation-Song circle
May 7th, 7 – 9+ pm
True Self Yoga, 2727 Westmoor Court SW #200
$ 7 – 15 @ the door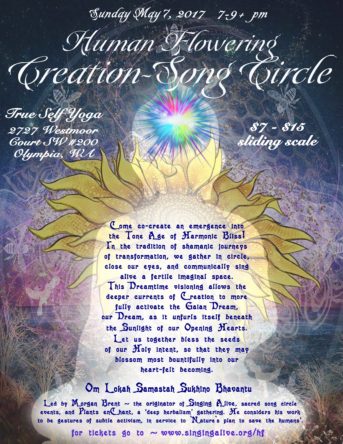 Portland, OR ~ circles are in flux here.  Until something regularizes, if you want to know what is happening, email me, and I will clue you in on the latest . . . 
 
Eugene, OR  ~  Sacred Song Circle ~  Every Other Thursday nite (7 pm) ~ next one May 11, 2017

Bohemia Apothecary & Tea of Life