~ Cantando La Vida ~
Finca Amrta, Costa Rica
January 25-28, 2018
A sharing and teaching gathering for ceremonial/devotional singing circles.  We change the world as we transform ourselves with songs of light, love, peace on earth, and goodwill to all beings!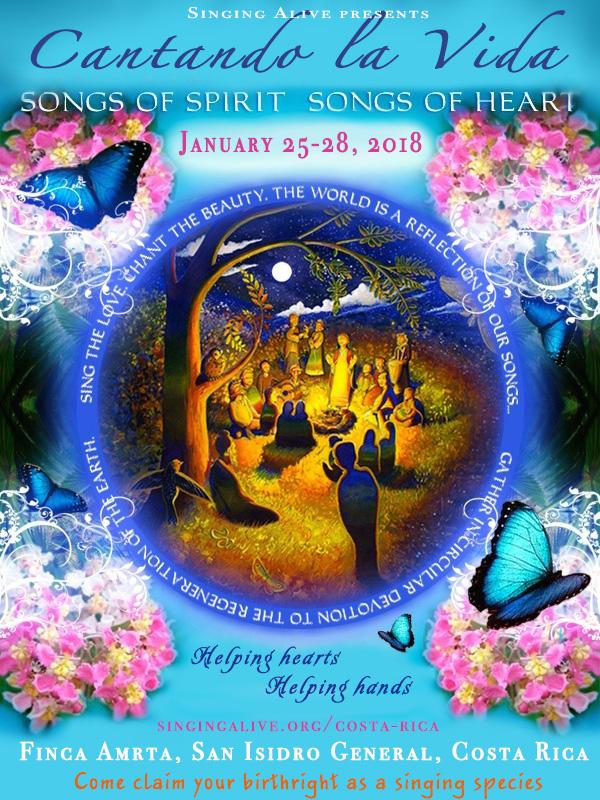 Cantando la Vida or Singing Alive Costa Rica, is a member of the family of Singing Alive events family (Cascadia, Appalachia, and Hawaii).  Such gatherings are part of a growing global 'song culture', one which is knitting itself, and the world, together thru harmonics of communion with the underlying unity of diverse spiritual traditions. This culture has been neglected as community rituals have secularized; atrophied as singing was professionalized; and devitalized as songs became disposable consumer items. However, it appears the innate urge to sing to, with, and as the glories, and often terrible beauties of this world, is something that may be suppressed, but is never forgotten!

Cantando la Vida exists to encourage the remembrance of this deep desire to sing from the heart. It provides resources in the form of 1) songs, 2) the community to sing them, and 3) support for those of us who want to live the teachings, the sadhana, of the songs. We therefore invite all who wish to activate and nurture their spiritual life in this way.  

The Song Village offers itself as a ceremonial space in the vibrant magic of the tropical rain forest, a chrysalis in which participants can rebirth, grow, enliven and enlighten themselves in attuning with the Garden of the Divine family of Creation. Please join us there, at Finca Amrta,

a small nature reserve and a sustainable farm

in Costa Rica's southern zone.



Fi

n

ca

A

mr

ta ~

is a wonderfully majestic river-side land of forests and fields, with organically cultivated fruits, flowers, and vegetables. And a secret the land loves to reveal to those who listen! There we will spend 4 days & 4 nights in various circles around fires & altars & in the bamboo shade!


Once again come together, all you singing people, to celebration the power of the voice and to sing with our ancestors and descendants and allies of this mysterious and wonderful life!  We'll gather on the hallowed grounds of Finca Amrta in the southern region of CR.  


Sing under the growing moon, let the river woosh its song into your heart, hear the whisper of the great bamboo song, let the great tropical melody fill your soul with life and light and joy! 
This singing medicine is potent and as we share, teach, learn together we all grow our greatness!
— 
BlesSings,
Cantando la Vida Organizers


Schedule ~
Thursday January 25th ~

Arrive to set up camp and participate in the Opening Ceremony, a Potluck dinner, and singing around the fire

into the evening and thru the weekend.  Bring a prepared dish to share as we call in the ancient energies to create a blessed singing container!


Friday & Saturday ~

Breakfast, First Circle, Morning Circle, Lunch, Community Time, Afternoon Circle, Dinner, Evening Fire Circle.  We will circle with songs, stories, prayers, invocations, intention settings, blessings, mantras, and ommmmm.  Themed circles are scheduled throughout the days, each facilitated, recorded and offered as a teaching venue. Community offerings will comprise other activities during the days; morning wake up singing, a plant walk, yoga sessions, learning the ways of an organic farm and swimming in the river! What would you like to offer?


Sunday ~

Breakfast, First Circle, Morning Circle, Lunch, Afternoon Circle, Closing Ceremony is Sunday afternoon, though singers can stay for dinner, one final fire circle to squeeze all the singing from the weekend as possible and a last night sleeping under the stars!


Monday ~

Depart Monday morning

Pack in Pack out

.  Breakfast will be served for those helping with clean up, make arrangements here if you are interested.



Food ~

We will nourish our bodies, as we nourish our souls, with wholesome, vegetarian food. Three meals a day of yummilicious delectable organic food. (*Except Thursday evening which is potluck style & Monday morning breakfast is served for the volunteers helping clean up the Farm*) Food includes: tortillas, rice, beans, lentils, local cheese and milk, delicious salads, oats, vegetables, and Amrta fruits; oranges and bananas.
You are invited to bring raw food items to donate to the kitchen & special treats & snacks to share in the snack area!





How does a Song Village work? Participation is our name, song village creation is our game!   All attendees are invited to volunteer, to offer your service to the village, to the extent you are able. These are the non-glamorous and still oh, so important aspects of everyday life; for example, you may choose to help change the dish washing water, be a meal host/server, help with registration, or even mind the outhouses!  Tending a village extends into seeing that everyone is welcome, that we take care of each others' (and the land's) well-being, and some pro-active awareness for how we are all getting along.
*Parents you are in charge of your children at all times, even in children's area.
*Let us know if you would like to run a children's activity.

Want to help activate Finca Amrta as an early arrival?
Come as early as Sunday Jan. 21st! Contact Finca Amrta (amrtasa@yahoo.com) for more information. Put 'Cantando la Vida ~ Early Arrival' in the subject line. You will be asked to pay the farm's $20/night camping fee which includes staples and farm produce.
Note: We offer a few Need Based work trade positions and scholarships. please contact cantandolavida@gmail.com with your request.



Participants should bring ~

Tent with rain fly and camping accessories; sun hat; clothing layers; good walking footwear; flashlight; sharables for the snack table; water bottle; bathing suit; Deet-free insect repellent; sunscreen; bio-compatible soap; musical instruments; altar items; smudging herbs; candles; songbooks; and if you wish items for barter or trade. Recording devices are also useful.



The weather ~

January is summer in Costa Rica and San Isidro del General is usually dry, in the mid 80′s, though check weather reports before you pack.

TICKETS ~ Thursday – Sunday evening, including camping…
Now – New Years Eve ~ Early Early Bird $120
New Years Day – January 20th ~ Early Song Bird $150
January 20th – on ward ~ Song Village Gate $200
Teens 13 – 18 yrs of age = 1/2 price.
Children (12 & under) are free. Include youth's information during check out process.

*Processing Fee – Help the song community avoid this fee!!! If you would like all of your money to go towards ClV (paypal has a processing fee) please send a message (cantandolavida@gmail.com)! THANK YOU!
*Cancellation Policy – if you discover that you cannot join the ceremony there are a few options 1. you can transfer your entrance to another 2. receive a full or partial refund if you tell us by Wednesday January 17th, 2018.


Directions to Cantando la Vida ~
When you land in San Jose (SJO airport code), Costa Rica you can take a cab from the airport to the Musoc Bus station ("el Musoc"). All cab drivers know where to go. (Stop by a bank to change some money, banks give the best exchange rate, or change just a little at the airport). Buses from the Musoc station go ONLY to San Isidro, so don't worry that you will get on the wrong bus. You should pay about $30 for the taxi ride. Buses leave every hour (8:30, 9:30 etc., with 5:30 being the last.) And the cost is around 3000 colones. The ride is 3 hours hours. If you land at 12 noon or later, plan on spending the night in San Jose or San Isidro. Make sure that you keep track of your belongings in San Jose. Check the
facebook page
to post about hostel, hotel & ride share information.
**Always keep your money, passport and plane ticket on your body.**
From

San Isidro

to

the farm

: you have three options: 
1) Taxi: Tell the cab driver that you want to go to the entrance to Arizona neighborhood on the road to San Ramon Sur:
"Me gustaria ir a la entrada de Barrio Arizona entre Pedregoso y Pedregosito."
Cost should be around 4000 colones. 
2) Bus: Buses leave from San Isidro Mercado Central (Central market) to San Ramon Sur/Pedregoso passing the farm.
Mon – Sat ~ 6:30AM – 8:30PM, leaving every hour on the 1/2 hour.
  Sun ~

6:30AM – 6:30PM, leaving every hour on the 1/2 hour

.
Get off at the Arizona stop. The bus usually makes this stop, be sure and tell the bus driver, "la entrada de Arizona, por favor". Los Chofferes (bus drivers) are usually very helpful. At the

San Isidro Mercado Central

you will see many buses. The destination is written above the driver outside of the bus. Our bus says: San Ramon, Pedregoso. Cost is about 380 colones. Across from the entrance to Arizona is a black wooden gate with a sign that says Amrta. This is the way to our farm.  Go down the hill. Follow the road all the way to the end and you will find the volunteer house, and . . . Welcome to Finca Amrta! 
3)  Walk:  its about 60 – 70 minutes from downtown San Isidro.   Make your way to the little town of Pedregoso, take a right on the main road, and Finca Amrta will be on your left after a couple miles.  

PLEASE NOTE: If you arrive in San Isidro at dark (around 5:30-6:00) plan on taking a room a hotel (Hotel Chirripo, across from the central park, is a good place to go) and come to the farm in the daylight hours. Email  Cantando La Vida for more info. Check out ClV's Facebook Event for Updates and to post something about yourself, let others know you are coming!

We hope to Sing you there!!