May 31 – June 3, 2018




Singing Alive Appalachia is a
gathering of the SongTribes
with the intent to share and invigorate songs, to hold space for them to do their
healing work, to brew the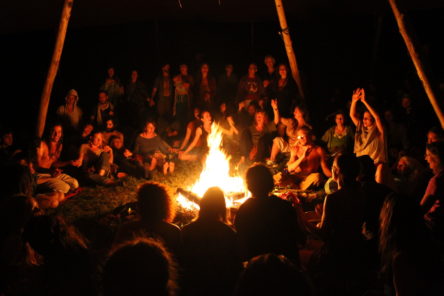 melodic magic of communal singing. It is about bringing people together who feel called to awaken, and nurture their spiritual life through communion with songs, prayers, chants, blessings, and celebration of life in this temple universe. Such songs clarify our lives, strengthen our communities, and foster personal and planetary renewal. At Singing Alive we gather to share them, and ourselves, in a safe, welcoming environment. Our goal is to open hearts, and the songs are the keys. These songs are multicultural, coming to us from many eras and lands far and near. Together they tell a perennial story of spiritual evolution, of earth-conscious living and peaceful co-existence. By singing this story we come home to Ourselves and perform the Dream of re-Creation we have so longed to live.


Singing Alive exists to encourage this deep desire to sing from the heart. We provide resources in the form of songs, a community to sing them, and support for those of us who want to live the teachings of the songs.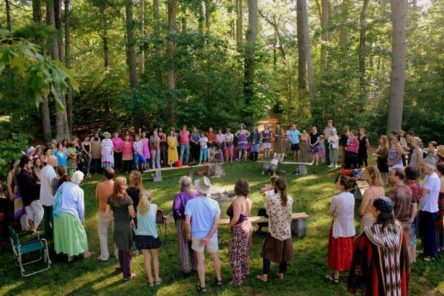 We therefore invite all who wish to activate and nurture their life in this way. We call all who long to gather in devotion to personal and planetary regeneration. We call all who wish to claim our birthright as a singing species!

Singing Alive Appalachia has been gathering since 2013; hosting a celebration of sacred song circles and honoring our deepest desire to sing from the heart. We are younger sister to Singing Alive Cascadia, birthed in the Pacific NW bio-region in 2007. On the east coast, Asheville, NC is our cultural nexus and center. Our summer gathering is within an hour drive from the city, nestled in these oldest mountains on earth. A cultural melting pot, flowering and renewing ancient traditions with modern livelihood, these mountains are home to many traditions of song and music, from old-time to bluegrass, gospel to kirtan, folk-sooth to earth-praise. We are super excited to host this amazing gathering!
~EARLY BIRD:  NOW Until~ May 1 2018
   $165   (Kids are Free! Elders and Teens $95)
~Full Price Ticket: After May 1st 2018
   $210
~Elders and Teens Half off: $95
   ≈ « ~ » ≈
~ONE DAY PASS: $78 (Elders and Teens $40 each)



Schedule 2018

Program Begins with Dinner on
Thursday:

Soft
opening Thursday all day, Come anytime
4-6 Registration & Set up Camp!
6-7 Dinner
7:30 Fire Ceremony
8:30 Main Firecircle 
Friday:
8-9 am Yoga
9-10am Breakfast
10-10:30 Morning Circle
10:30-12:30 Songcircles
12:30-2 Lunch break 
2-4 Songcircles
4-6 offerings, communion, games, dances, etc.
6-7 Dinner
7:30 Self and Community Care
8:30 Main Firecircle and Small Firecircle 
Saturday:
8-9 am Yoga
9-10am Breakfast
10-10:30 Morning Circle
10:30-12:30 Songcircles
12:30-2 Lunch break 
2-4 Songcircles
4-6 offerings, communion, games, dances, etc.
6-7 Dinner
7:30 Self and Community Care
8:30 Main Firecircle and Small Firecircle 
Sunday:
 9-10am Breakfast
10:30-12  Songcircles
12-2 lunch
2-4 Marketplace
4-5 Closing Circle





DAILY SONGCIRCLES

Elders, Song-weavers, story-keepers, culture-speakers, and vibration-attuners will guide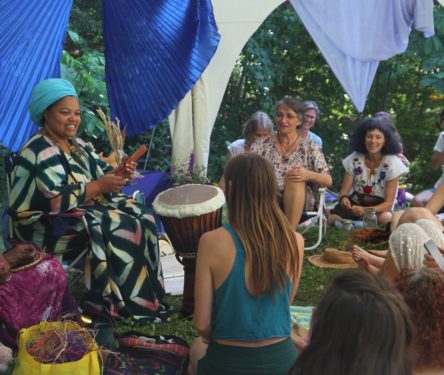 us in four songcircles each morning and each afternoon, were we can drop in deep with each facilitator in their way of offering, teaching and guiding songs, welcoming group participation and encouraging us to open our
voices and stretch our places of comfort into stories of celebration. Past song circles have been Mystical Songs, Medicine Woman ~ Spirit Wisdom, Singing your own Soul, Devotional Love Music, Songs for the Plants, Vocal harmonic choir, To Feed What Feeds Us, Songcircle for Survivors, let it flow, Acappella Storytelling,

Chanting Mantra to Align with Divine

, Yoga of Sound, Honoring the Mother, vocal improv and expressive heart singing, Cherokee Songs & Stories, To nourish and inspire our day-to-day family,

PRAISE and ONENESS

, the Elements and the Planet , ancient songs of unity in humanity.







NIGHTLY FIRE CIRCLES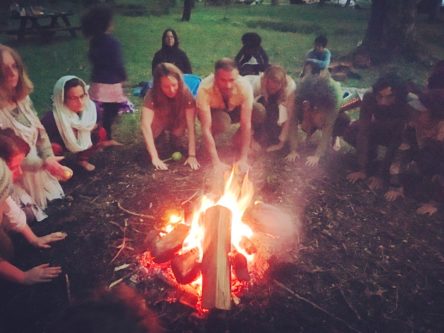 We
gather every night after dinner for a fire ceremony and blessing
to open up our nighttime sharings.
Fire tenders

will maintain heat, light, and safety throughout the evening.

We have two community fires per night: the large skylodge tent hosts our big community circle where we can raise our voices together as a village and another smaller fire circle will host different themed and open to improvisation circles such as: cypher – rhyme & rhythm, Non – verbal toning and harmony, drumming and instrumental jams, poetry and songwriter offerings.
Loud drumming usually needs to quiet down by midnight, but it is not uncommon for song and story sharing to go until the wee morning hours or even sunrise for a few brave souls. Also the Tea Temple or other community spaces have been known to have spontaneous music throughout the evening.


MEALS & FOOD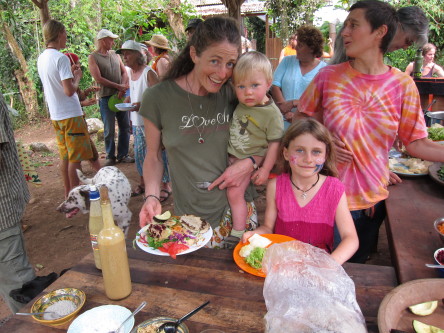 As we nourish our souls with song and communion, w
e offer wholesome vegetarian food to nourish our bodies,
with as much organic and local food as possible.  There will be gluten-free & vegan options. We offer three meals a day; Breakfast, Lunch and dinner will be served in a timely fashion. Bring extra snacks for yourself or to share, and we always welcome donations of fresh organic or homegrown veggies, fruit, beans, grains, and more in the kitchen. We will provide dinner on Thursday and we close after lunch on Sunday. Please bring your own bowls, plates, mugs & utensils.







PARTICIPATION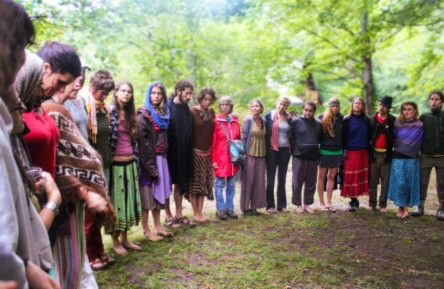 We invite you to offer your time and talents to co-create our ceremonial song village. Everyone is requested to lend a helping hand to keep our village running smoothly. Options will be a 2-3 hour shift in one of these areas: Kitchen, Kids patch, Tea Temple, Firecircle and more. We invite you to sign up for a role of service that inspires you at Registration. We will have a Volunteer Coordinator to assist with this. Come prepared to find your place of service within the community, and you will find that it enriches your experience here.
KIDS' PATCH
Singing Alive is a family friendly and inter-generational festival that nurtures community and belonging for children and families. We'll have a children's tent filled with song circles, storytelling and more. There will be opportunities for guided sharings (potential offerings: plant walk, tree climbing, fairy house building) and freedom for kids to create their own adventures.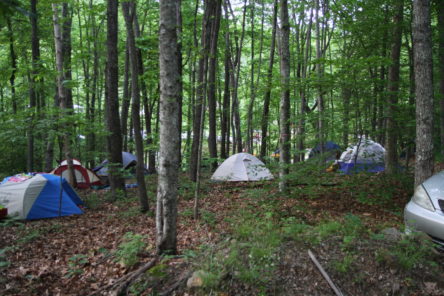 CAMPING
Bring your own sleeping arrangement. Please come prepared with tent or tarp, bedding or hammock, headlamp/flashlight, water bottle, biodegradable soap, etc. Everything you will need to take care of your own needs for warmth, shelter, and comfort
. If you need special arrangements please contact singingaliveappalachia@gmail.com







TEA TEMPLE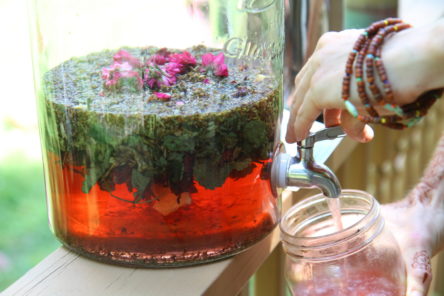 Our Tea Temple has been growing each year. From a humble self serve hot and cold brew tea station to a well staffed temple/lounge offering multiple homegrown and wild-foraged teas all day and night long throughout the gathering. As a sign of our dedication to bio-regional health and ecological wealth we offer you a space of sanctuary where you can get warm herbal tea each morning and night and refreshing cold infusions in the midday sun. Bring your own mug!

HERBAL FIRST AID
There will be a herbal first aid, area with a trained herbalist available to help with any minor scrapes, bruises, wounds, and aches that may come.
THINGS TO BRING
We ask that you bring your own eating-ware bowl, cup, and spoon and keep them for the duration of the gathering. (We'll have a dishwashing station set up) Bring songbooks and notebooks to journal and write songs in, as well as your cell phone or recording device to grab songs as they are sung (please keep devices on airplane mode for the duration of the flight).
Please bring Altar items, sacred herbs for smudging, offerings from your home and garden, your arts and crafts, and anything that helps you feel connected and present in your most deeply-rooted and authentic way.
MARKETPLACE

Singing Alive is primarily a non-commercial event. However on Sunday we have a marketplace to trade our wares and goods person-to-person in an intimate way. You are welcome to set up your trade blanket to invite others to exchange energy with you for your offerings.
Your offerings of cd'
s, songbooks, musical instruments, medicine, crystals, produce, salves, baskets, homespun gifts, crafts, art and the like can be sold/traded during the Sunday marketplace.
 



CAR POOLING

  Please car pool to save on gas and parking space. You can connect with others coming to Singing Alive Appalachia here 
https://www.groupcarpool.com/t/2ok087


NO DOGS and PETS

No dogs allowed (except service dogs)
CANCELLATIONS
Tickets are non-refundable
SMOKING TEMPLE 
There is a designated temple space for smoking. We ask that all smoking happen here only and not in any other areas. Please respect clean fresh air for everyone and enjoy your sacrament, Thank you.


SWIMMING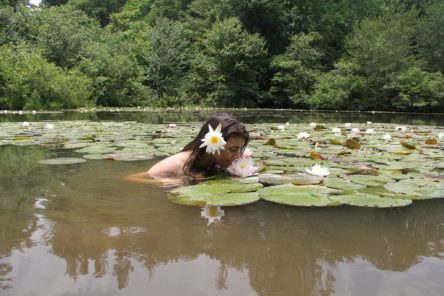 We often host at a venue with a wonderful natural pond or creek for swimming. You are welcome to
refresh yourself at your own leisure and risk. No certified lifeguards will be on duty, although a community of avid swimmers will be nearby. Parents must be responsible for their own children.

Songcircles in 2018: Coming Soon

Worktrade Portal: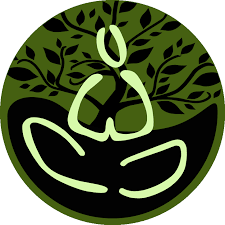 limited amount of worktrade opportunities available: a $52 non-refundable deposit is required
For more information on worktrade please contact: SingingAliveWorktrade@gmail.com.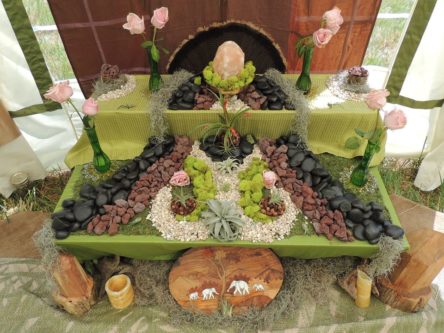 WISH LIST
Please email SingingAliveAppalachia@gmail.com with your offerings ahead of time:
We would love donations (or to borrow): Rugs, Big tents. 10×10 Ez ups. Giant coolers, solar lights, 50 or 100 (or more) gallon water tanks, Folding tables. Big Tea urns, Hot water big dispensers, Cold water dispensers. Home grown herbal teas. Veggies from local farmers. Beans. Grains. Crystals. Big whiteboards or chalkboards. Cloths and tapestries. Altar objects. Prayer flags. Conch shell. Gong. Singing bowls. Large heavy-bottomed pots, large cast irons, good kitchen knives, large cutting boards, large bowls. 
May the Ancient voices, forever singing, guide you on your way!

We hope to Sing you there!!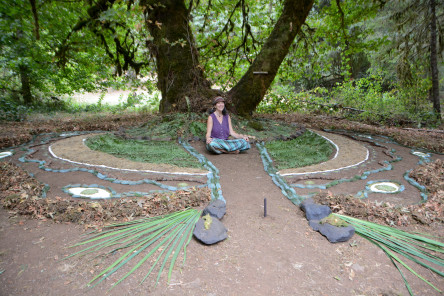 Contacts: