June 1-4, 2017

Sing Alive Appalachia is a gathering of the SongTribes with the intent to share and invigorate songs, to hold space for them to do their healing work, to brew the melodic magic of communal singing. It is about bringing people together who feel called to awaken, and nurture their spiritual life through communion with songs (and prayers, chants, blessings) of celebration of life in this temple universe. Such songs clarify our lives, strengthen our communities, and foster personal and planetary renewal. At Singing Alive we gather to share them, and ourselves, in a safe, welcoming environment. Our goal is to open hearts, and the songs are the keys. These songs are multicultural, coming to us from many eras and lands far and near. Together they tell a perennial story, a Gaian dharma, so often forgotten, yet so joyfully remembered, of the Great work of spiritual evolution, of earth-conscious living and peaceful co-existence. By singing this story we come home to Ourselves and perform the Dream of re-Creation we have so longed to live.


Singing Alive exists to encourage the remembrance of this deep desire to sing from the heart. It provides resources in the form of: 1) songs, 2) the community to sing them, and 3) support for those of us who want to live the teachings, the sadhana, of the songs. We therefore invite all who wish to activate and nurture their spiritual life in this way. We call all who long to gather in devotion to personal and planetary regeneration.   We call all who wish to claim our birthright as a singing species!

Singing Alive Appalachia is a celebration of sacred song circles, honoring our deepest desire to sing from the heart. It is a sister event to Singing Alive Cascadia, a gathering of the song tribes birthed in the bosom of the Pacific NW bio-region in 2007. The Asheville, NC area has a long and vibrant history of tribal gatherings, creativity, and earth-love. These mountains are home to many traditions of song and music –from old-time to bluegrass, gospel to kirtan, and much more. We are super excited to host this amazing gathering!

We will gather on the weekend of June 1-4, 2017 on beautiful land close to Asheville, NC (exact location/directions will be sent to registrants closer to time of gathering).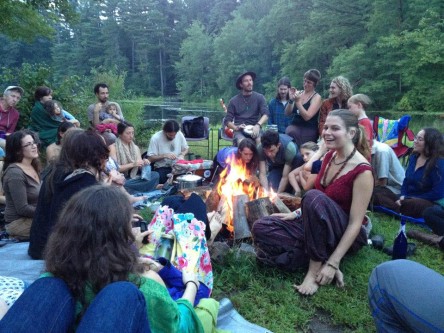 TICKETS

Before April 13 2017


Ticket price sliding scale from $136 – $272; If you buy a ticket you can also get one for a friend(s) for $128 – $255


Before May 1 2017


Ticket price sliding scale from $153 – $306;  If you buy a ticket you can also get one for a friend(s) for $145 – $289


After May 1 2017
Ticket price sliding scale from $153 – $306;  If you buy a ticket you can also get one for a friend(s) for $170 – $340

All tickets include: singing for 4 days, camping for 4 nights, 2 meals a day for 4 days.
Registration ends Wednesday May 30 2017.  No tickets available at the entrance

To apply for a worktrade position please download and print the Worktrade Application Form: 
SAA 2017 Worktrade Application


PARKING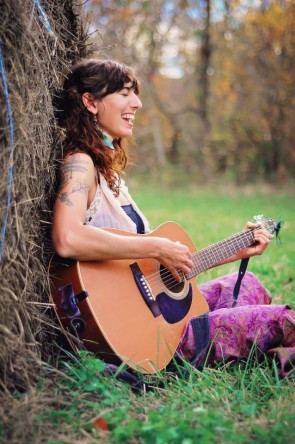 **We are tight on parking at our site this year. For this reason, we are strongly encouraging carpooling!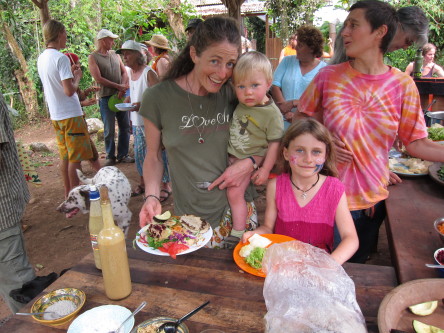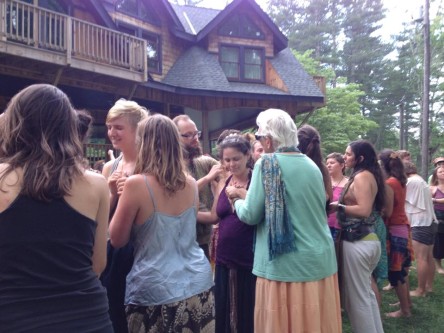 PARTICIPATION
It is our intention to keep this event affordable and accessible for all who wish to attend. To this end, we invite you to offer your time and talents to co-create our ceremonial song village. Everyone (including songleaders & worktraders) is requested to lend a helping hand to keep our village running smoothly. Options will be a 2-3 hour shift in one of these areas:  meal preparation, meal clean-up, hanging with the kids, or helping at the Tea Lounge. We invite you to sign up for a role of service that inspires you at Registration. We will have a Volunteer Coordinator to assist with this. Come prepared to find your place of service within the community, and you will find that it enriches your experience here. 

SMOKING TEMPLE

 


There is a designated temple space for smoking of all kinds. We ask that all smoking happen here only and not in any other areas. Thank you.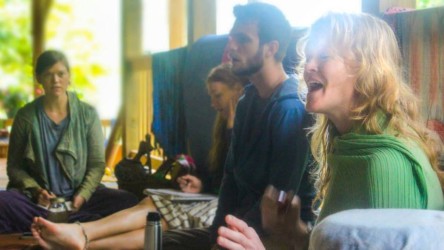 SCHEDULE
Thursday:
8:30-9:30 Registration
9:30-10 Opening Circle
10-11:00 Brunch
11:30-1:30 Morning Songcircle (3 choices)
1:30-3:30 Freetime & snacks
3:30-5:30 Afternoon Songcircle (3 choices)
5:30-6:30 Freetime
6:30 Dinner
7:30 Firecircle
Friday & Saturday:
8:15-9:15am Yoga & Chanting
9:30-10 Morning Circle
10-11 Brunch
11:00-1:00 Morning Songcircle (3 choices)
1:00-3:00 Freetime & snacks
3:00-5:00 Afternoon Songcircle (3 choices)
5:00-6:30 Games, participant songcircle offerings, dance, freetime
6:30 Dinner
7:30 Firecircles
Sunday:
8:15-9:45am Movement Meditation
10-10:30 Morning Circle
10:30-11:30 Brunch
10:30-12 Marketplace
12-2 Early Songcircle (3 choices)
2:15-4:15pm Angel Wash or Songcircle (1 choice)
4:30-5 Closing Circle
5-7 Cleanup/Breakdown
SONGCIRCLES 2016

The 2017 Songcircles will be announced soon.

Kirtan
Jojo Silverman
A celebratory practice of call and response yogic chanting (usually in the Sanskrit Language), Kirtan is joyous and the learning curve is quick. Sacred mantras from the Vedic culture are woven into melodious song, this blissful, easy, and powerful form of yoga, is quickly becoming one of the most prominent group singing practices in the world.
Cherokee Songs & Stories
Yona FrenchHawk
We'll be learning & singing Cherokee songs, as well as stories of the songs and why we sing them the way we do. The Cherokee have long taught lessons of life through song and story. Also we'll learn a couple of simple Cherokee songs to call our ancestors and spirits.
Women's Empowerment Songs
Ashe Tenderfire & Antiga
Delve into the connection with the Divine Feminine as we sing songs that uplift and empower women to live their highest being.
Songs of the Heart Mother
Luna Ray (Saturday)
As I literally prepare for birth, this circle will be a blend of songs that connect us to The wisdom of the heart. We will learn and sing simple songs in English, Spanish, Sanskrit and Hebrew, weaving vibration, melody, intention and voices to activate a remembrance of unity and love.
Songs for the Plants
Josh Fox
Join us in singing devotional songs to the local flora and fungi. Fox will share many original and collected plant songs that will delight the heart and tickle the spirit.
Light Language: Opening to the Spirit Tongue
Mirra Starseed
We will explore the original source from which language and song stream, and awaken our channel to sing the songs of our soul uninhibited. Come explore your unique language and songs!
Singing Together to Re-enchant the World
Laurence Cole
Primarily original songs with layered harmonies and exciting rhythms to nourish the soul and re-enchant the world.
Singing Together to Re-enchant the World (Plus a few African songs)
Laurence Cole
Primarily original songs with layered harmonies and exciting rhythms to nourish the soul and re-enchant the world with a sprinkling of African songs by request
Let It Flow, Let It Flow, Let It Flow
Kai Peace Eagle
When we flow automatic, we blow a lot o' static
Clear from the mind to find the rhymes
Let's practice the art of free flow verse! Warm-up games and facilitated activities will prime us for co-creating a musical, lyrical work of beauty and depth. Freestyle champions and first-time rhymers will all have a place in this circle.
Vocal Play and Improv
Searra Jade
In this songcircle, we will playfully explore the diverse capabilities and ranges of the human voice.  Through exercises and games, we will enter a state of non-thinking, non-judgmental creativity and let loose and weave together our voices to communicate and create spontaneous works of sound art.  The goal of this songcircle is to allow yourself to become like hollow bamboo – a vessel for divine creativity to pour through!


Rounds 2.0 – Weaving Baskets of Sound
Aimee Ringle
In this circle, we'll explore the phenomenon of round singing as it extends beyond the initial learning and "test driving" of each song. Using unique tunes and different forms of rounding as tools for musical exploration, group learning environment, and even meditative journeying, we'll dive deep into the music that can only be created in a circle of people — the kind that makes patterns of sound that move and shift with the song's unfolding — the kind that can hold us together even as we weave them! No rounding experience needed — you'll pick it up!
Sacred Medicine Songs
Satori Ki  
Come gather with us to expand in the healing of sound, music specifically designed to work with the mind, body and soul activation. We will be sharing songs from indigenous and modern medicine carriers, to wake up the heart of the world.
Songleading Alchemy
Aimee Ringle
In this circle, seasoned songleader, Aimée Ringle will offer some tools, tricks, and exercises in the prep and in teaching to convert beloved solo/anthem songs with lots of words into group friendly sing alongs (either in part or in their entirety). You'll also get some good examples of tunes that have been thusly Frankenstein'd to great effect.
Dances of Universal Peace (Saturday)
Asherah Rose
We will circle together to embody the rhythms of life, hearts beating as one, eyes reflecting, hands touching, voices lifting to the stars! Rounds, harmonies and layers of sound in concentric circles. Cliff Dumais guitar; Luke Staengl recorder

Awakening Harmony: Synching our voices to connect our spirits
Searra Jade
How can singing in harmony help us feel closer and more connected to one another and the earth? Come see/feel/listen for yourself as we dive into an ocean of sound waves, melding our voices, getting to know different intervals, improvising, and learning rounds and other songs with built in harmony parts. In this circle we will explore harmony from a basic music theory and acoustics standpoint as well as an intuitive approach, as we are all musical beings with great harmonious capabilities once we learn to listen and trust our ears!
Human Flowering Creation-song Circle
Morgan Brent
In the tradition of shamanic medicine journeys, we communally sing alive (and breath, voice, chant, spirit-language …) a fertile imaginal space, in which we will progress a plant-inspired creation story. This to allow the deeper currents of Creation to more fully activate the Gaian Dream, Our Dream, which we cultivate it as a flowering of consciousness, coaxed into full bloom by the Sunlight of our Opening Hearts.
Om Lokah Samastah Sukhino Bhavantu!
Original Songs Circle
Keri Evjy
This circle is for people with original songs to share and teach. C
ome prepared to share songs that we can all pick up the chorus by the end
.  A chance to hear your song supported by many voices, and begin teaching and sharing those offerings with our community. Support these creations in a safe and loving container. 
Singing at the Threshold
Sarah Anne Amason & Meredith Aphieme
All of us will experience having to say goodbye to a beloved friend or relative as they transition into the spirit world. Likewise, many of us have experienced really challenging emotions and have felt stuck at different parts of our lives and struggle to step through the threshold of change and rebirth. We will share songs and presence that have the potential to assist this transformative process, through supporting acknowledgment, compassion, acceptance and grace.
Songs from the Singing Circle of Athens, GA
Jenny Derevere & Maggie Hunter
Rounds and chants: Pagan, African and Native American "Chanting from and for the Soul" 

Traditional Folk Music of Appalachia
Ash Devine
Traditional Folk Music of Appalachia including gospel, old time folk, The Carter Family, Union social justice song and songs from the British Isles. Be prepared to improvise and try harmonies to create new folk songs out of the old ones.  
Vocal Yoga Journey: Toning the Embodiment of Healing
Brian Winslett & Michelle Shine
After a tonal lesson and grounding warm up practices, we will take a facilitated crescendo journey into the spiraling heart of sound with intuitive, fluid movements and yogic postures. The experiential container will move through sweet feminine improvisational chant-scapes, pranic ecstatic vocal expressions, and shamanistic release; weaving a cauldron of vibrations from body to earth encompassing sounds of joy and love, grief and praise; sweetness and surrender. No experience necessary. All yoga levels welcome.
Earth Songs and Dances for Families
Lena Ruark-Eastes
Come sing, dance and play with simple and fun earth inspired songs and dances for the whole family. These special songs can be a part of your everyday rituals and routines and bring sweetness and harmony into the home.
Align with the Divine Yoga and Chanting (Friday & Saturday early morning)
Eliza Volk and Luna Ray
Heart-centered yoga with Eliza to open the body and move stagnant energy, in preparation to fully FEEL the magic of music.  Luna Ray will lead songs with call-and-response chanting to connect us with the energies of the divine.  A blissful way to start the day!
Movement Meditation (Sunday early morning)
Katie Wells
Movement Meditation weaves intention, energy cultivation, free-form movement and group song into an integrative embodiment practice that can dissolve barriers and bring us into the present moment with love.
FOOD
We offer delicious food to nourish our bodies, as we nourish our souls, with wholesome vegetarian, and as much organic and local food as possible.  There will be gluten-free & vegan options. Brunch and dinner will be served every day, plus snacks. Bring extra snacks for yourself or to share, and donations of fresh veggies, fruit, beans, grains, etc. are highly appreciated. We will provide meals starting on Thursday and end with brunch on Sunday. Please bring your own bowls, plates, mugs & utensils.
ACCOMMODATIONS
Camping is included in your ticket price (except for day passes). Three nights for the 4 day pass, 2 nights for the 3 day pass, and one night for two day pass. If you need an extra night of camping, please use the button in the ticket section above. If you would like housing, check out these places within 10-15 minutes of Lovin Land: Tranquil Waters Healing Sanctuary, Mountain Light Sanctuary, Hawk & Ivy Bed & Breakfast, Comfort Inn in Mars Hill, NC. We are seeking more low-cost accommodations nearby. Contact us if you know of places.
KIDS' PATCH
Singing Alive is super family friendly. We are a multi-generational festival that nurtures a sense of community and belonging for children and families, inspiring connection to song and to the land. We'll have a children's tent filled with song circles, storytelling, rattle-making and more. A space for kids to build a village with cardboard boxes, hay bales, planks of wood, salvaged materials, rope, and fabric. We'll have nature based play spaces (digging tools, mud kitchen, mud painting) near the main singing circles so parents can participate more while the little ones play nearby. There is a pond for swimming, a creek, fields, forest trails. There will be opportunities to be guided (potential offerings: plant walk, tree climbing, fairy house building) and freedom for kids to create their own adventures.
HEALING SANCTUARY
The Healing Sancutary is a place for you to sit in your inner work that is stoked with heartSong. Tend to the layers within yourSelf in peace, and be assisted in your process by holders of this Safe Space if you wish. We invite you to bring an altar item such as a stone precious to you, a totem that brings guidance or an herb whose burning cleanses the air to add to the altar and be charged by our gathering. Squish ~ pillows and blankets ~ are also graciously welcomed. If you feel called to be part of holding space in this tent or contribute items such as rugs, small tables or scarves/fabric, please contact Eliza Rose at pacisquodiligo@gmail.com.
THINGS TO BRING
We ask that you bring your own plates, cups, and silverware and keep them for the duration. We'll have a dishwashing station set up. This is a living-on-the-land thing, so come prepared with tent, bedding, flashlights, water bottle,  biodegradable soap, etc., also altar items; smudging herbs; candles.  Bring songbooks and CDs for show and share. CDs, songbooks, musical instruments and the like can be informally sold/traded throughout the weekend, and during the Sunday marketplace.  Recording devices are also useful as an additional resource for our own recording.
DOGS

No dogs allowed (except service dogs)
CANCELLATIONS
Tickets are non-refundable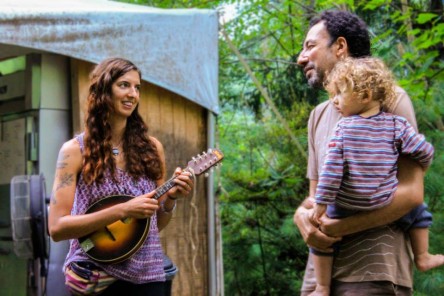 WISH LIST
We would love donations (or to borrow): Rugs. Big tents. 10×10 Ez ups. Giant coolers, solar lights, 50 or 100 (or more) gallon water tanks, Folding tables. Big Tea urns. Hot water big dispensers, Cold water dispensers. Home grown herbal teas. Veggies from local farmers. Beans. Grains. Crystals. Big whiteboards or chalkboards. Wood for making signs and compost toilets. Cloths and tapestries. Old sheets (for compost toilets). Altar objects. Prayer flags. Conch shell. Gong. Singing bowls. Large heavy-bottomed pots, large cast irons, good kitchen knives, large cutting boards, large bowls. 
May the Ancient voices, forever singing, guide you on your way!
We hope to Sing you there!!