May 31 – June 3, 2018


Hello folks. We have an update from the Singing Alive Appalachia site. THE SUN IS OUT AND SKIES ARE CLEAR!!! For now. We give thanks for the cleansing rain, the flowing river and the power of Pachamama. Spirits are high, food is yummy, and we are working to remedy effects of the flash flooding last night. The river has returned to its banks and while we honor its flow, we recognize that the bulk of the tropical storm has passed. The gathering will go on, with some modifications.
We will begin on Friday morning, similar schedule, with registration replacing morning yoga. PLEASE CARPOOL IN 4-WHEEL DRIVE VEHICLES IF POSSIBLE! For other vehicles, we will have a gear drop-off and will be shuttling folks to/from Micaville, about ten minutes away.
We have lost some camping in the field but there is still room for a number of tents and a limited amount of semi-flat wooded camping. We are working with the wonderful people of the Celo community to open up their homes to participants who are not comfortable camping in the rain. The songtemples will be open for communal sleeping! We can fit about 20 cars on the side of the road for those who ABSOLUTELY need to sleep in their vehicles.
We have a few requests for folks!
— tarps
— pallets
— EZ-ups
— tea herbs
If you want to come out today or Thursday to help us, we welcome you to join us! Thank you all for the support, prayers and we look forward to singing with you this weekend!





Singing Alive Appalachia is a
gathering
that aims to share and invigorate songs, to hold space for them to do their
healing work, and to brew the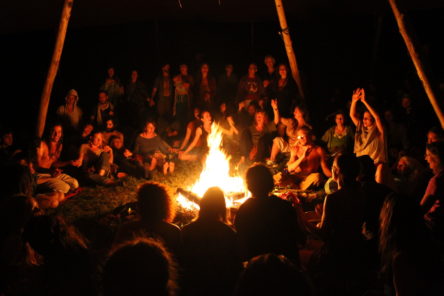 melodic magic of communal singing. It is about bringing people together who feel called to awaken and nurture their spiritual life through communion with songs, prayers, chants, blessings, and celebration of life. Such songs clarify our lives, strengthen our communities, and foster personal and planetary renewal. At Singing Alive we gather to share them, and ourselves, in a safe, welcoming environment. Our goal is to open hearts, and the songs are the keys. These songs are multicultural, coming to us from many eras and lands near and far. 


Singing Alive exists to encourage this deep desire to sing from the heart. We provide resources in the form of songs, a community to sing them, and support for those of us who want to live the teachings of the songs.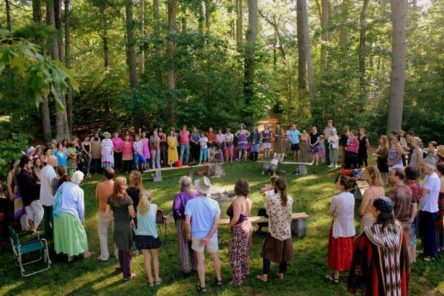 We, therefore, invite all who wish to activate and nurture their life in this way. We call all who long to gather in devotion to personal and planetary regeneration. We call all who wish to claim our birthright as a singing species!

Singing Alive Appalachia has been gathering since 2013; hosting a celebration of song circles and honoring our deepest desire to sing from the heart. We are the younger sister to Singing Alive Cascadia, birthed in the Pacific Northwest in 2007. On the east coast, Asheville, NC is our cultural nexus and center. Our summer gathering is within an hour drive from the city, nestled in these some of the oldest mountains on earth. We host a variety of song traditions, from old-time to bluegrass, gospel to kirtan, folk-sooth to earth-praise. We are super excited to host this amazing gathering!
This year Singing Alive Appalachia will take place at beautiful LaFinca farm in Celo, NC!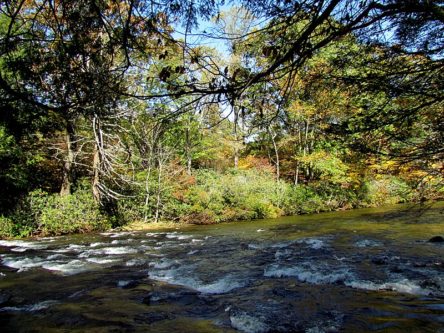 ***If possible, to save on fees, please make a check out to "Singing Alive Appalachia"  and mail it to Yuri Woodstock, PO BOX 22 Barnardsville, NC 28709  (rather than using the PayPal link.) If you fill out the registration form, make a note that you paid by mail, and we will still get your info even if you don't pay via PayPal!***

~EARLY BIRD:  NOW Until~ April 16 2018
$150   (Kids are Free! Elders and Teens $75) 

~Semi-Early Bird (available April 17-May 7th): $180

~Full  Ticket: After May 7th 2018: $200

~Elders and Teens Half off: $75

~ONE DAY PASS: $78 (Elders and Teens $40 each)

  ***Carpool! Parking fees apply for fewer than 4 in a vehicle. See Below.***

Work Trade Portal:
Worktrade is closed! Please do join us if you can, and if there is hardship blocking you, please contact us at registersingingaliveappalachia@gmail.com

Schedule 2018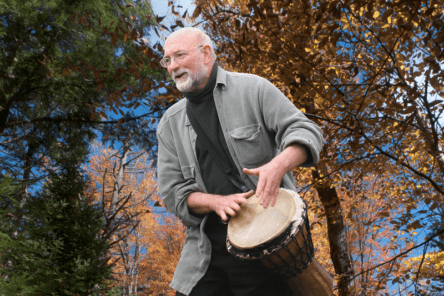 ~ Feel free to Arrive and Camp Wednesday Night! Bring your own food for Wednesday & Thursday morning. First meal will be Thursday Lunch ~

Thursday:
8:30-9:30am Registration (continuing…)
10 am Opening Circle
10:30-12 Songcircle
12-1pm Lunch
1:15-2:45 Songcircle
3:30-5 Songcircle
5-6:30 Participant offerings and free time
6:30-7:30 Dinner
8pm Fire circle
Friday:
8-9 am Yoga
9-10am Breakfast
10-10:30 Morning Circle
10:30-12 Songcircle
12-1 Lunch break
1:15-2:45 Songcircle
3:30-5pm Songcircle
5:30-6:30 Participant offerings, song circles, games, dances, etc.
6:30-7:30 Dinner
8pm Fire circle
Saturday:
8-9 am Yoga
9-10am Breakfast
10-10:30am Morning Circle
10:30-12 Songcircle
12-1 Lunch break
1:15-2:45 Songcircle
3:30-5pm Songcircle
5:30-6:30pm Participant offerings, song circles, games, dances, etc.
6:30-7:30 Dinner
8pm Fire circle

Sunday:
8:30-10 Ecstatic Dance & Vocal Expression
10:15-11:15 Brunch
11:30-1pm Songcircle
1:15-2:15pm Marketplace
2:15-4:15pm Angel Wash
4:30-5pm Closing Circle
5-7 Breakdown & Cleanup



Click below to view the Gatebook with the full schedule (including songcircles):
2018-singing-alive-gatebook




Songcircles offered this year:

Annie Zylstra
Songs from the Heartland
An exploration of harmony and dissonance, heart and edge, chaos and cocoon. These songs hail from the vibrant singing communities nestled in the Heartland, informed by the bluffs, ridges, hollows, and valleys of the Driftless Region and also cross-pollinations met and made on the road. Annie's songs are silly, subtle, contagious, and rich in sonic magic.

Polyphons
Sink your teeth into the riveting harmonies born in the mountains of Eastern Europe. Come for mouthfuls of delicious words and rhythms that come from the lively cultures of polyphonic singing that circle through the Ukraine, Republic of Georgia, Bulgaria, and more.
www.heartlandharmony.net

Sheila Kay Adams
Appalachian Songshare 


Judy Rhodes
Appalachian Songshare 


Kathryn Ashera Rose & Luke Staengl  (2)
Songs & Dances of Universal Peace
We create a moving mandala of sacred intention sending out waves of love to the earth and stars from the heart of peace.  Live acoustic guitar, drum, and layered vocal harmonics synchronize our heartbeats and footsteps, as we gaze into the mystery within and without and embody prayers of compassion. Rounds and counterparts in varied languages from many of the sacred traditions of the earth. Drummers, guitarists invited to participate with some advance preparation. See more at dancesofuniversalpeace.org.

Jess Kaufman
Close Duets: Two-Person Harmony intensive
This is structured as a class, where folks need to be able to hold their part alone, so that we can really finetune the skills that make duets so bone-shiveringly good. No music-reading necessary!


Lena Ruark-Eastes
Singing at The Threshold
Let's sing spiritual honey across the thresholds of our lives. These threshold songs help us transition through big changes with support and witnessing. Join us in learning (and please bring your favorites) songs for birth, coming of age, motherhood, croning, and death. We cycle, we sing.


Em Marantz
Honey in the Hive: Love Song of the Pod
We will be exploring tones/songs and Circle dance to support ourselves in feeling completely safe and beheld in allowing deep transitions and altered states. Em will share some mantric Hebrew, African, Sufi and Threshold Choir Songs, & Hathor Sounds. We will be guided to imagine or hear the song or sounds that we would (have) want(ed) to hear when we were first born …and together we will conceive a song to sing to ourselves based on what we discover. 

Melody Henry 
Dreamcatching: A Lost Art 
Learn how to develop your ear to hear the resonance of the universe, move out of your own way, & let the Divine move through you by tapping into your inner voice. It's all in you!

Kaitlin June
Vessels of Service: Songs of Joyful Responsibility
This uplifting selection of affirmation and gratitude songs remind us of our true nature as instruments for God/Source/Spirit's work. As vessels of service we have the opportunity and joyful responsibility to align ourselves with our unique offering in the creation of the new paradigm. Come renew your commitment to showing up and shining bright.
Practicing ProVOCative: A bold, body-based approach to raising your (actual) voice for justice
With a strong, loving container and central focus on embodiment, we practice interrupting moments of racism with our voices. We practice staying present with our fear and expanding our capacity for discomfort, calling out and calling in with compassion with the intention of training our hearts and voices to show up proudly. Through this process we gain confidence in speaking up, trust in our voices and shared intimacy with our fellow journeyers.


Rob Lenfestey
Accessing Deep Resonance & Vocal Rhythms
Learn to access the deeper registers with proven technique used to reach tones used in throat singing. We will explore tones that can be used to create rhythm on top of these 'bass' tones to produce a bass and drums effect in your vocals! A great addition to song circles!

Kai Peace Eagle
Let It Flow, Let It Flow, Let It Flow
Get your thinking mind out of the way and let the universe speak through you. We'll move through a series of facilitated exercises to warm up our rhyming souls, then culminate by co-creating an inspired piece born of that moment. Perfect intro for first-timers, and a level-up for seasoned freestylers.

Searra Jade
Hollow Bamboo: a playful exploration into vocal expression
Together we will explore opening the creative portal so that we may sing without being held back by self judgment or hesitation.  The goal is to work towards become a hollow bamboo – a channel for creative expression and deep wisdom to pour through. We will start off with a series of playful sound and movement activities to open our voices and let down our thinking brains, entering a space of free vocal improv play and movement and gradually will move into verbal singing, during which everyone is given the opportunity to sing what's on their heart, with the loving support and listening ears of the rest of the group

Mz. Imani
The Garden of the Groove
The Garden of the Groove, led by Mz. Imani, helps percussionists & drummers explore the role & strategies of being a strong "companion plant" in a song circle. Explore the ebb and flow of rhythm and song, by supporting and eARThing the role & power of the drum.   


Ash Devine
Songs of Solidarity, Social Change, and Longing
Songs that have been fueling the strength of social movements, for overcoming struggle, and for processing of loss and longing. Songs selected from the Appalachian region, historical social movements and contemporary activist composers.


Kirtan Chanting with Aditi and JoJo
Kirtan is a group practice of call and response yogic chanting in the ancient language of Sanskrit . The chants are simple and the learning curve is quick. This blissful, easy and powerful form of yoga, is a practice of coming together in community to create strong spiritual vibration energy. Through focusing less on words or ideas, and more on a strong group container, these sacred sound codes can create a powerful healing presence and a softening in the heart center.

Madelyn Sovern
The Resonating Body
The voice is the result of a dynamic coordination of many parts of body and being working together. Our body is naturally resonant. Our bones are the resonators of sound, and when we can release unnecessary tension, we can allow the body to sing with ease.  In order to find ease in singing, we will explore finding ease within our bodies and breath. This class will provide you with a toolbox to draw from in your own vocal practice. It will incorporate somatic practices such as The Alexander Technique, Breathing Coordination, vocal toning, yoga, tai chi, body tapping, and more. Come and explore your resonant body!

Juan Holladay
Songs without Words
The focus will be creating space for singers to explore sounds and phonetic syllables without the use of words.  Singers will have opportunities to pull unique vocal expressions from within, and share in collaborative, improvised song making.  Everyone will have a chance to lead as well as follow, through call and response and taking turns being maestro over an orchestra of non-linguistic sounds.
Everyone is a Child
Children's songs come in many forms of varying complexity, from simple nursery school mantras to tongue twisting rounds.  We will sing across a spectrum of songs, celebrating themes of fundamental rejuvenation and resilient joy.  Seeking the place of effortless mastery, we will sing and listen to the wisdom of children.
Lillie
Kolman
Original Song Share
This is a circle for individuals to share original songs that they have created that can be sung by a group of folks at songshares and gatherings like Singing Alive. This circle is a place to be seen, heard, and witnessed, as well as a place to share in creative expression with the collective.

Aditi Sethi
Mystical

 Songs

An invitation to share songs, devotional 

music

 and mantras that open the mind and heart to the mystery of this human experience and honor death as a sacred passage and opportunity for transformation.


Kennedy Oneself
Spontaneous Freedom

A guided Breathing & Toning meditation moves into free-form vocal expression supported by drums and vibrations, and closed by a sound healing symphony of serenity. This musical journey is an opportunity to experience the stillness that exists beneath the chattering mind.

Joshua Fox
Song Medicine Ceremony
We will co-create a healing ceremony guided by spirit and fed by song. Bring your grief, your joy, your healing hands, your heartache, your curiosity, and your healing intentions. Please arrive at the beginning to be a part of this closed container.

Sarah Anne Amason
Soulful Song Baths
Together we will explore giving and receiving the art of the song bath.
We will take turns laying down while singing to and being sung to.  
The songs will be focused on loving presence and connection.

Morgan Brent
Songs for a New Dawn
There are a genre of songs I often call 'prophecy songs' that are about calling in a next octave Humanity.   These include songs that long for these changes, that teach the Ways of this Vibration, and that describe the inhabited landscapes of this emerging world.  We will share a selection of these songs, and activate their transformative powers with a number of accompanying visualizations and breathing exercises.

Aradhana & Truth-I
Ceremonial Cacao Circle
Aradhana Silvermoon and Truth-I, of Silvermoon Chocolate and I,Star, will host a Ceremonial Cacao Circle in which Aradhana's sacramental herbal cacao elixir will be served… join them for a prayerful, meditative, musical, and contemplative experience of heart and spirit alchemy.


David Weber
Freestyle/Flowetry Jam
Flowetry is the Art of HEARTiculation: where our timid monkey mind shuts down & our heart's voice takes the stage. The Flowetry Jam is a safe space for ritualized self-expression, where we all get out of the way to let the Universe play.

Elana Brody
Avodat Lev: Service of the Heart
This circle will be an offering of morning songs and chanted prayers, in Hebrew and English; infused with the mysticism of the traditional Jewish morning service. Avodat, in Hebrew, means 'Work' or 'Service', and Lev means 'Heart', and this prayer circle is named "Avodat Lev", because when singing together, raising up a collective prayer, we act in service to and from the heart.

Remaya Wind 
Medicine to connect to heart earth and spirit
This circle will host both original songs by me, Remaya, as well as songs I've collected which are medicine to my heart. I have found that when I feel lost or disconnected, song seems to be the medicine that reconnects me to truth. It is my intention to share in truth with you and re-member the song of our heart together as we remember our sacred relations with the earth as well


FAMILY SONGCIRCLES:
Kari Kovick (2 songcircles)
It's You I Like: Building Peace and Connection through Musical Fun with Kids
Join Kari for fun and interactive music time for babies to 6 year olds and their caregivers, using rhythm instruments, scarves, and lots of movement. Kari has been creating community through music for 18 years in Floyd, VA with songs and practices that focus on building secure attachment and social and emotional intelligence. Visit her website to get a taste of what she does, and listen to song samples from her newly released album "It's You I Like". https://www.heartofthechildmusic.com

Lena Ruark-Eastes
Seed your Song and Water It
Come dance and share Earth Songs, this is a kids song circle and families are welcome. We invite you to arrive on time as we will begin with a vocal improvisation scavenger hunt. We will laugh, dance, play and you guessed it SING! 
Jessica Fein
Wild and Free! A Song Circle for Our Young Wise Ones
This song circle is dedicated to our young ones, specifically for kids ages 7-10. We will celebrate the inner child in us all, singing fun, positive songs together that kids and their families can take home to share. Jessica will also offer some helpful tips on singing. Expect to smile, sing, dance and have fun  


DAILY SONGCIRCLES

Elders, Song-weavers, story-keepers, and culture-speakers will guide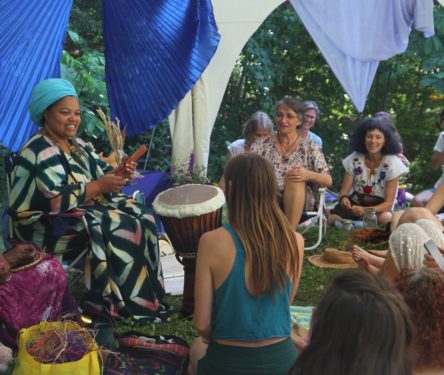 us in workshops, three times, at three to four locations each day, one morning and 2 afternoon slots. Join us as we drop in deep with each facilitator in their own way of offering, teaching and guiding songs, welcoming group participation and encouraging us to open our
voices and stretch our places of comfort into stories of celebration. Past song circles have included Mystical Songs, Medicine Woman ~ Spirit Wisdom, Singing your own Soul, Devotional Love Music, Songs for the Plants, Vocal harmonic choir, To Feed What Feeds Us, Songcircle for Survivors, let it flow, Acappella Storytelling,

Chanting Mantra to Align with Divine

, Yoga of Sound, Honoring the Mother, vocal improv and expressive heart singing, To nourish and inspire our day-to-day family,

PRAISE and ONENESS

, the Elements and the Planet, ancient songs of unity in humanity.


NIGHTLY FIRE CIRCLES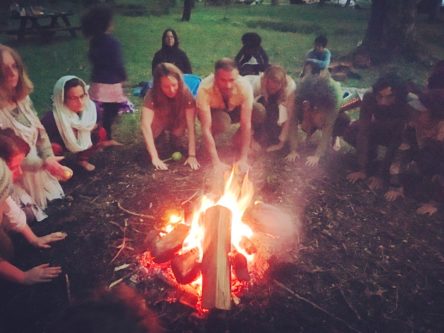 We
gather every night after dinner for a fire ceremony and blessing
to open up our nighttime sharings.
Fire tenders

will maintain heat, light, and safety throughout the evening.

We will share songs with one another deep into the night. We welcome you to share songs appropriate for large groups to learn within 10-15 minutes or so. Once the song gets going, we will allow the energy to dictate how long it is sung.  Afterwards we leave space, silence, and room to "feed the song" with thanks and reflections.  
Loud drumming usually needs to quiet down by midnight, but it is not uncommon for song and story sharing to go until the wee morning hours or even sunrise for a few brave souls. Also the Tea Temple and other community spaces have been known to have spontaneous music throughout the evening.


MEALS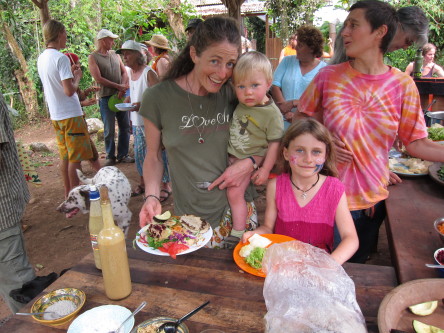 As we nourish our souls with song and communion, w
e offer wholesome vegetarian food to nourish our bodies,
with as much organic and local food as possible.  There will be gluten-free & vegan options. We offer three meals a day; Breakfast, Lunch and dinner will be served in a timely fashion. Bring extra snacks for yourself or to share, and we always welcome donations of fresh organic or homegrown veggies, fruit, beans, grains, and more in the kitchen. We will provide dinner on Thursday and we close after lunch on Sunday. Please bring your own bowls, plates, mugs & utensils.


PARTICIPATION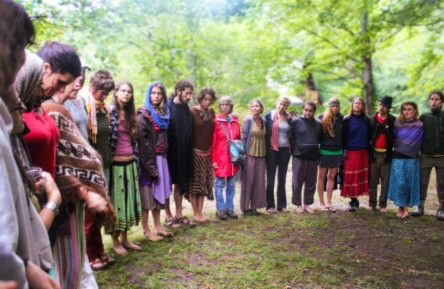 We invite you to offer your time and talents to co-create our ceremonial song village. Everyone is requested to lend a helping hand to keep our village running smoothly. Options will be a 2-3 hour shift in one of these areas: Kitchen, Kids' patch, Tea Temple, and more. We invite you to sign up for a role of service that inspires you at Registration. We will have a Volunteer Coordinator to assist with this. Come prepared to find your place of service within the community, and you will find that it enriches your experience here.
KIDS' PATCH
Singing Alive is a family friendly and inter-generational festival that nurtures community and belonging for children and families. We'll have a children's tent filled with song circles, storytelling and more. There will be opportunities for guided sharings (potential offerings: plant walk, tree climbing, fairy house building) and freedom for kids to create their own adventures.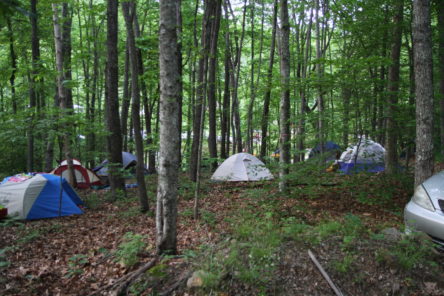 CAMPING
Bring your own sleeping arrangement. Please come prepared with tent or tarp, bedding or hammock, headlamp/flashlight, water bottle, biodegradable soap, etc. Everything you will need to take care of your own needs for warmth, shelter, and comfort
. If you need special arrangements please contact singingaliveappalachia@gmail.com


TEA TEMPLE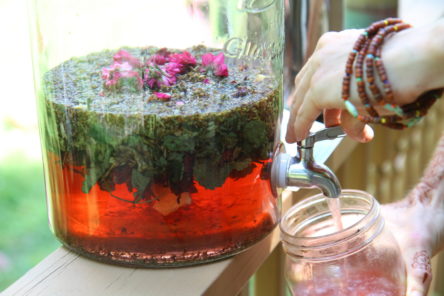 Our Tea Temple has been growing each year. From a humble self-serve hot and cold brew tea station to a well staffed temple/lounge offering multiple homegrown and wild-foraged teas all day and night long throughout the gathering. As a sign of our dedication to bio-regional health and ecological wealth we offer you a space of sanctuary where you can get warm herbal tea each morning and night and refreshing cold infusions in the midday sun. Bring your own mug!

HERBAL FIRST AID
There will be an herbal first aid area with trained herbalists available to help with any minor scrapes, bruises, wounds, and aches that may come.
THINGS TO BRING
We ask that you bring your own eating-ware bowl, cup, and spoon/fork and keep them for the duration of the gathering. (We'll have a dishwashing station set up) Bring songbooks and notebooks to journal and write songs in, as well as your cell phone or recording device to grab songs as they are sung (please keep devices on airplane mode for the duration of the flight).
Please bring Altar items, sacred herbs for smudging, offerings from your home and garden, your arts and crafts, and anything that helps you feel connected and present in your most deeply-rooted and authentic way.
MARKETPLACE

Singing Alive is primarily a non-commercial event. However on Sunday we have a marketplace to trade our wares and goods person-to-person in an intimate way. You are welcome to set up your trade blanket to invite others to exchange energy with you for your offerings.
Your offerings of cd
s, songbooks, musical instruments, medicine, crystals, produce, salves, baskets, homespun gifts, crafts, art and the like can be sold/traded during the Sunday marketplace.
 



CAR POOLING

Please car pool to save on gas and parking space. You can connect with others coming to Singing Alive Appalachia here:
CARPOOL
**Carpooling Will reduce Parking Fees!***
Alone in your car? -$15 Parking fee
2 In a car: -$10 
3 In a car: -$5
4 In a car: -FREE!
NO DOGS and PETS

No dogs allowed (except service dogs)
CANCELLATIONS
Tickets are non-refundable
SMOKING TEMPLE 
There is a designated temple space for smoking. We ask that all smoking happen here only and not in any other areas. Please respect clean fresh air for everyone and enjoy your sacrament. Thank you.


SWIMMING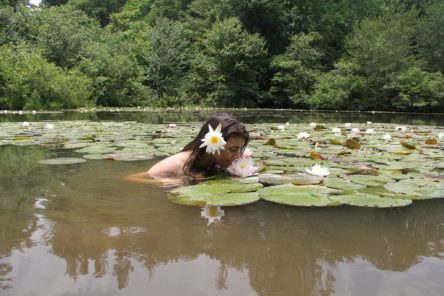 This year we will be on the beautiful Toe River in Celo, NC with several swimming holes. You are welcome to
refresh yourself at your own leisure and risk. No certified lifeguards will be on duty, although a community of avid swimmers will be nearby. Parents must be responsible for their own children. 
One swimming hole will be designated clothing-optional, and the other swimming holes and the Gathering grounds will require clothing.
We are trying to accommodate different folks' needs and desires around clothing and nudity. Let's be respectful and open-minded as we share in space together with folks who have different cultural norms.

Worktrade Portal: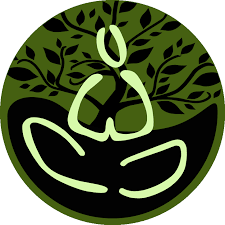 Worktrade is closed! Please do join us if you can, and if there is hardship blocking you, contact registersingingaliveappalachia@gmail.com
For more information on worktrade please contact: SingingAliveWorktrade@gmail.com.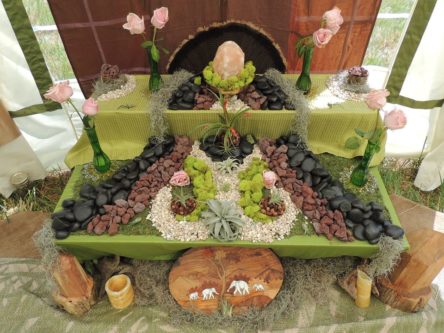 WISH LIST
Please email SingingAliveAppalachia@gmail.com with your offerings ahead of time:
We would love donations (or to borrow): Rugs, Big tents. 10×10 Ez ups. Giant coolers, solar lights, 50 or 100 (or more) gallon water tanks, Folding tables. Big Tea urns, Hot water big dispensers, Cold water dispensers. Home grown herbal teas. Veggies from local farmers. Beans. Grains. Crystals. Big whiteboards or chalkboards. Cloths and tapestries. Altar objects. Prayer flags. Conch shell. Gong. Singing bowls. Large heavy-bottomed pots, large cast irons, good kitchen knives, large cutting boards, large bowls. 
May the Ancient voices, forever singing, guide you on your way!

We hope to Sing you there!!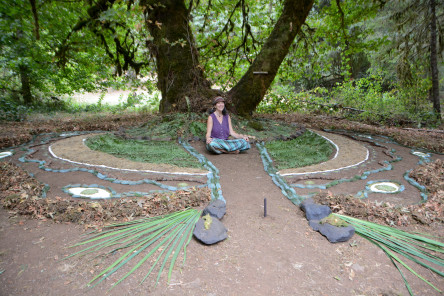 Contacts: 
REGISTRATION QUESTIONS?  
SITE MANAGEMENT QUESTIONS? 
OTHER QUESTIONS?
  Email us @: RegisterSingingAlive@gmail.com