June 1-4, 2017

Sing Alive Appalachia is a gathering of the SongTribes with the intent to share and invigorate songs, to hold space for them to do their healing work, to brew the melodic magic of communal singing. It is about bringing people together who feel called to awaken, and nurture their spiritual life through communion with songs (and prayers, chants, blessings) of celebration of life in this temple universe. Such songs clarify our lives, strengthen our communities, and foster personal and planetary renewal. At Singing Alive we gather to share them, and ourselves, in a safe, welcoming environment. Our goal is to open hearts, and the songs are the keys. These songs are multicultural, coming to us from many eras and lands far and near. Together they tell a perennial story, a Gaian dharma, so often forgotten, yet so joyfully remembered, of the Great work of spiritual evolution, of earth-conscious living and peaceful co-existence. By singing this story we come home to Ourselves and perform the Dream of re-Creation we have so longed to live.


Singing Alive exists to encourage the remembrance of this deep desire to sing from the heart. It provides resources in the form of: 1) songs, 2) the community to sing them, and 3) support for those of us who want to live the teachings, the sadhana, of the songs. We therefore invite all who wish to activate and nurture their spiritual life in
this way. We call all who long to gather in devotion to personal and planetary regeneration.   We call all who wish to claim our birthright as a singing species!

Singing Alive Appalachia is a celebration of sacred song circles, honoring our deepest desire to sing from the heart. It is a sister event to Singing Alive Cascadia, a gathering of the song tribes birthed in the bosom of the Pacific NW bio-region in 2007. The Asheville, NC area has a long and vibrant history of tribal gatherings, creativity, and earth-love. These mountains are home to many traditions of song and music –from old-time to bluegrass, gospel to kirtan, and much more. We are super excited to host this amazing gathering!

We will gather on the weekend of June 1-4, 2017 at the beautiful Brahma Ridge Center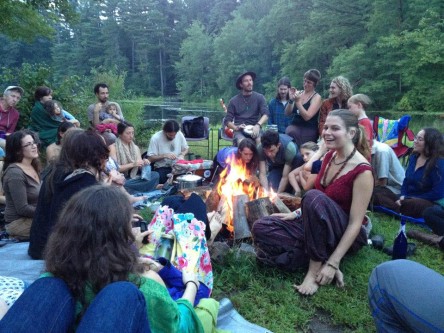 TICKETS

Before May 1 2017


Ticket price sliding scale from $153 – $306;  If you buy a ticket you can also get one for a friend(s) for $145 – $289


Before May 18th 2017
Ticket price sliding scale from $163 – $315;  If you buy a ticket you can also get one for a friend(s) for $153 – $300
After May 31st 2017
Ticket price sliding scale from $195 – $315;  If you buy a ticket you can also get one for a friend(s) for $153 – $300

**DAY PASS: BACK BY POPULAR DEMAND: $80 ($45 for elders). 2 MEALS INCLUDED**


Registration ends Thursday May 31 2017.  

For information on the worktrade contact Dimitri at SingingAliveWorktrade@gmail.com. To apply for a worktrade position please download and print the Worktrade Application Form: SAA 2017 Worktrade Application
Other Contacts: 


PARKING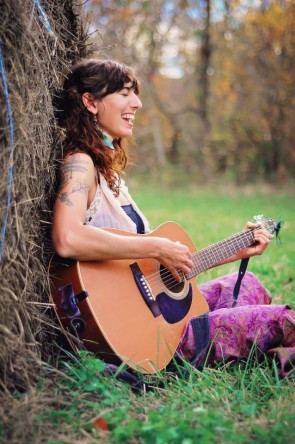 **We are tight on parking at our site this year. For this reason, and for environmental reasons, we are strongly encouraging carpooling!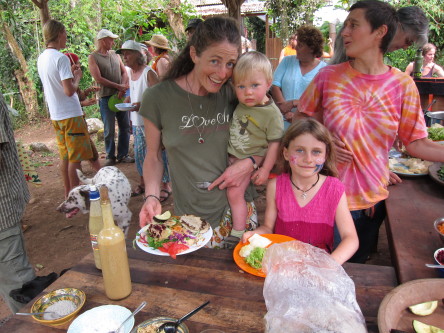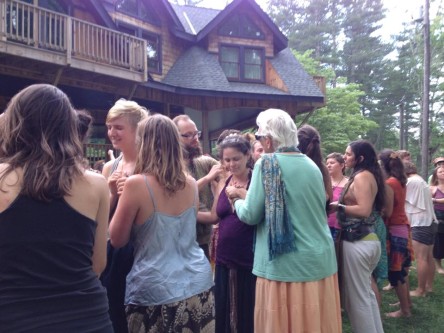 PARTICIPATION
It is our intention to keep this event affordable and accessible for all who wish to attend. To this end, we invite you to offer your time and talents to co-create our ceremonial song village. Everyone (including songleaders & worktraders) is requested to lend a helping hand to keep our village running smoothly. Options will be a 2-3 hour shift in one of these areas:  meal preparation, meal clean-up, hanging with the kids, or helping at the Tea Lounge. We invite you to sign up for a role of service that inspires you at Registration. We will have a Volunteer Coordinator to assist with this. Come prepared to find your place of service within the community, and you will find that it enriches your experience here. 

SMOKING TEMPLE

 




There is a designated temple space for smoking of all kinds. We ask that all smoking happen here only and not in any other areas. Thank you.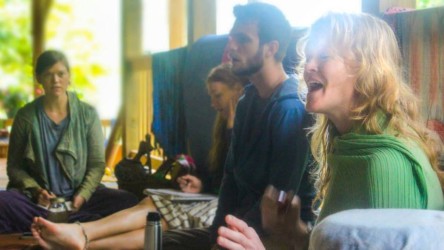 Schedule 2017
Thursday:
8:30-9:30am Registration
10am Opening Circle
10:30-12:30 Songcircle
12:30-2pm Lunch
2-4 Songcircle
4-6 Freetime & Registration
6-7 Dinner
7:30 Fire Ceremony
8:30 Main Firecircle 
Friday:
8-9 am Yoga
9-10am Breakfast
10-10:30 Morning Circle
10:30-12:30 Songcircle
12:30-2 Lunch break 
2-4 Songcircle
4-6 Participant offerings, songcircles, games, dances, etc.
6-7 Dinner
7:30 Cacao Ceremony
8:30 Main Firecircle and Small Firecircle 
Saturday:
8-9 am Yoga
9-10am Breakfast
10-10:30 Morning Circle
10:30-12:30 Songcircle
12:30-2 Lunch break 
2-4 Songcircle
4-6 Angel Wash & Participant offerings, songcircles, games, dances, etc.
6-7 Dinner
7:30 Cacao Ceremony
8:30 Main Firecircle and Small Firecircle 
Sunday:
9-10:30am Fields of Embodiment: Praise and Oneness
10:30-noon Brunch
12-2 Songcircle
2-4 Marketplace
4-5 Closing Circle 
FOOD
We offer delicious food to nourish our bodies, as we nourish our souls, with wholesome vegetarian, and as much organic and local food as possible.  There will be gluten-free & vegan options. Brunch and dinner will be served every day, plus snacks. Bring extra snacks for yourself or to share, and donations of fresh veggies, fruit, beans, grains, etc. are highly appreciated. We will provide lunch and dinner on Thursday, breakfast and dinner Friday and Saturday and brunch on Sunday. Please bring your own bowls, plates, mugs & utensils and extra food for lunch on Friday and Saturday.
ACCOMMODATIONS
Camping is included in your ticket price (except for day passes). Three nights for the 4 day pass, 2 nights for the 3 day pass, and one night for two day pass. If you need an extra night of camping, please use the button in the ticket section above. If you would like housing, please look for places near Candler, NC. Here are some options:
Brahma Ridge has a 2 bedroom house available (see https://www.vrbo.com/143424 for details but please book by calling Brahma Ridge: 828-665-4404
Mountain Springs Cabins www.mtnsprings.com Kate, 828/665-1004; Asheville Cottages (828) 712-1789; The Cabins of Asheville Eric/Joey 828/768-7368; Holiday Inn 1-800-678-2161; Country Inn and Suites (828) 670-9000 or (828) 665-9556 
KIDS' PATCH
Singing Alive is super family friendly. We are a multi-generational festival that nurtures a sense of community and belonging for children and families, inspiring connection to song and to the land. We'll have a children's tent filled with song circles, storytelling, wand-making and more. Outside we will have a space for kids to build a village with cardboard boxes, hay bales, planks of wood, salvaged materials, rope, and fabric. There are woods all around and a forest trail. There will be opportunities to be guided (potential offerings: plant walk, tree climbing, fairy house building) and freedom for kids to create their own adventures.
HERBAL FIRST AID
There will be a herbal first aid area with a trained herbalist available.
THINGS TO BRING
We ask that you bring your own plates, cups, and silverware and keep them for the duration. We'll have a dishwashing station set up. This is a living-on-the-land thing, so come prepared with tent, bedding, flashlights, water bottle,  biodegradable soap, etc., also altar items; smudging herbs; candles.  Bring songbooks and CDs for show and share. CDs, songbooks, musical instruments and the like can be informally sold/traded throughout the weekend, and during the Sunday marketplace.  Recording devices are also useful as an additional resource for our own recording.
CAR POOLING

Please car pool to save on gas and parking space. You can connect with others coming to Singing Alive Appalachia here 
https://www.groupcarpool.com/t/2ok087


DOGS

No dogs allowed (except service dogs)
CANCELLATIONS
Tickets are non-refundable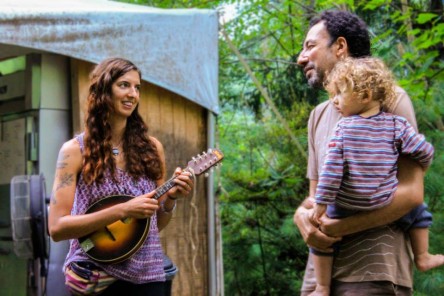 WISH LIST
We would love donations (or to borrow): Rugs. Big tents. 10×10 Ez ups. Giant coolers, solar lights, 50 or 100 (or more) gallon water tanks, Folding tables. Big Tea urns. Hot water big dispensers, Cold water dispensers. Home grown herbal teas. Veggies from local farmers. Beans. Grains. Crystals. Big whiteboards or chalkboards. Cloths and tapestries. Altar objects. Prayer flags. Conch shell. Gong. Singing bowls. Large heavy-bottomed pots, large cast irons, good kitchen knives, large cutting boards, large bowls. 


Songcircles in 2017
Aditi Sethi: Mystical Songs


An invitation to share sacred songs, devotional music and mantras that open the mind and heart to the mystery of this human experience and honor death as a sacred passage and opportunity for transition.

Ahh and Zeke: Tuning & Toning
We will work with ancient Essene and Vedic practices that connect us deeply with our hearts and use our voices to tune in to ourselves and all creation. Toning and tuning our voices, we will move into using sacred sounds to soothe the soul and raise our vibration. We will end with beautiful songs in several languages that are intended to heal humans and send our love to Mama Earth. No singing experience or ability necessary. These are practices to honor your self and become a full member of the singing species that we are

Amikaeyla Gaston: Medicine Woman ~ Spirit Wisdom – Sound, Spirit, & Spells to plant by
Working with sacred planting and harvest chants and songs to call to the natural spirits also known as Orishas, we delve into the knowledge from various global traditions. We will learn complete koros and songs of indigenous tribes from Africa through the Caribbean into New Orleans and beyond. This songcircle will focus on the ancient tradition of singing with large groups in what is known as a circle song.  Utilizing the traditions of various cultures, both ancient and contemporary, we experience the unifying and revitalizing effects of group playing, toning, and singing.

Antiga and Lena: Songs From Womyn for Womyn
We gather as a wise council of Womyn beings to nourish the feminine heart and soul. Bring your empowering womyn songs to share, and an openness to learn new song medicine as we elevate eachother, all womyn and Mother Earth.
Ari Moshe Wolfe: Devotional Love Music
This song circle is a nourishing and intimate space to relax into the fullness of this present moment and reconnect with our eternal Home within. Songs are a combination of personal poetry, dream messages and prayers from the sacred traditions.
Elana Brody: Avodat Lev
Join Elana for an inspired chanting adaptation of the traditional Jewish morning prayers. Included in the session is an opportunity for personal prayer, movement, and participating in a centuries-old Kabbalist method of connecting with nature/self/divine. In a niche Jewish-renewal farming community, this collection of songs, and the routine of gathering in a circle for song-prayer each morning before working the fields, is known as Avodat Lev, or the Work of the Heart.

Eric Mandala and Zu Zen: Peace, Love & Unity
There are many divine names but all are one. We are all family. When we meet in sacred space our ancestors join us and through this harmony, this ceremony we purify the energy of the universe. Let's sing and praise the holy names together in unity and spread peace & love through our devotion.

Jonathan Santos: Singing your own Soul Music
Highlighting the rallying and organizing power of Soul Music and empowering others to dig into their own experiences to share songs/Chants from their own Soul.  This circle would be infused with sharing Freedom Songs, their power and legacy.
Josh Fox: Songs for the Plants
Join us in singing devotional songs to the local flora and fungi. Fox will share many original and collected plant songs that will delight the heart and tickle the spirit.
Kai: Let it flow, let it flow, let it flow.
When we enter into flow state,  Our mouth becomes a showcase of how Spirit can move through us To make our words the truest Learn and practice tools for increasing our ability to freestyle and beatbox.
Kennedy Marks: Vocal harmonic choir
Joining voices in a spontaneous free form flow, Kennedy will weave a tapestry of sound as the undercurrent of our vocal harmonic choir.  
Laurence Cole: To Feed What Feeds Us  
Mostly original songs, layered with interlocking themes, rhythms and harmonies, for traversing the depths and heights of our aliveness, connecting ourselves in a tapestry of beauty, meaning and intention to offer a collective gift of grateful reciprocity to this rare and astonishing living world we are privileged to share.
Liat Batshira: Songcircle for Survivors
Most of us have experienced and survived some sort of trauma in our lives. This circle is a space to feel seen, empowered, and supported. We will lift up our voices together in song to recognize that we are not alone.
Melanie Leenhouts: Chanting Mantra to Align with Divine
Kirtan is a chanting tradition within Yoga. Many mantras are in the Sanskrit language, a language that has more words for the Divine and more precise terms for defining consciousness, spiritual knowledge and meditative experience than any other language. In this age, it is considered one of the most direct paths to awareness of love's eternal presence.
Melody Henry: Acappella Storytelling
This songcircle will consist of a brief sharing on how music is viewed according to Waldorf teachings, including the health benefits of singing. I will discuss methods of tuning into aural tones and I will share my thoughts on how to maximize creativity. The session will include an original story woven into song as well as lots of room for participation
Meredith Aphieme: Dhrupad is Nada Yoga or a Yoga of Sound and the the most ancient form of Hindustani Classical Music.  Although I am very new to Dhrupad and do not claim accuracy in any way, I will share with you my meditations on form of a particular Raga (a type of note progression, but not like a scale because there is not an equal space between each note).  We will learn one Composition or Song from this Raga, but we will mostly explore different ways to make a sound, and approach the Raga from many different angles like practicing singing scales but as a meditation and not in a linear fashion.
Patricia Allison: Honoring the Mother
We will focus on short, simple songs that can be easily shared on the "frontlines" of our lives
Sangoma Oludoye
Sangoma Oludoye is a Traditional Yoruba priestess of Obatala, great granddaughter of the Bombara and Cherokee nations. She walks the path of Spiritual midwifery and Wisewoman traditions. This song circle connects our hearts to the ancient songs of unity in community and humanity

Searra Jade: Hollow Bamboo: a vocal improv and expressive heart singing playshop
Together we will explore opening the creative portal so that we may sing without being held back by self judgment or hesitation.  The goal is to work towards become a hollow bamboo – a channel for creative expression and deep wisdom to pour through.   We will start off with a series of playful sound and movement activities to open our voices and let down our thinking brains, entering a space of free vocal improv play and movement and gradually will move more into verbal singing, during which everyone is given the opportunity to sing what's on their heart, with the loving support and listening ears of the rest of the group.
Yona FrenchHawk: Cherokee Songs & Stories
We'll be learning & singing Cherokee songs, as well as stories of the songs and why we sing them the way we do. The Cherokee have long taught lessons of life through song and story. Also we'll learn a couple of simple Cherokee songs to call our ancestors and spirits.
Family Songcircles

Emily Gray Marantz
1) Let's tune and tone our bodies in movement and song! Sounds and dancing moves of Thanks and Praise for the immense creative love and support of the Elements and the Planet
2)  Songs and free-flow dancing for and inspired by: the seasons, the shifts, and the cycles of time
Jessica Braun-Ferris
1) Together, we'll sing songs to nourish and inspire our day-to-day family lives. Singing with our kids can be a chance to pause, rest, and come into harmony; or to connect by being crazy goofy. We'll sing silly and sublime songs for the ins and outs of daily life — like waking up, blessing food, playing, cleaning up and winding down. And we'll sing family songs to celebrate the wheel of the year. Please come learn new songs and share your favorites.
2) Family Song Ritual — We'll celebrate the returning summer together; setting intentions for our families to thrive this season, and then singing, dancing and playing to give them life.


Fields of Embodiment: PRAISE and ONENESS (Sunday morning)
facilitated by Dominique Warfield with music by Searra Jade & Natalie Monte-Swanson

Let's come together as one body, one breath.

We will begin with guided yogic warm-up facilitated by Dominique Warfield— tuning into our breath and the pulse of our bodies and the land.
Through ritual drumming, authentic movement, live instrumentation and activating the voice, we will dance and sing in the fields of our heartfelt expression. Let the creative force be the guide towards internal healing and collective transformation.
We will close the container with Thai-massage techniques and self-care tools.

Bring instruments, drums and shakers.

May the Ancient voices, forever singing, guide you on your way!
We hope to Sing you there!!